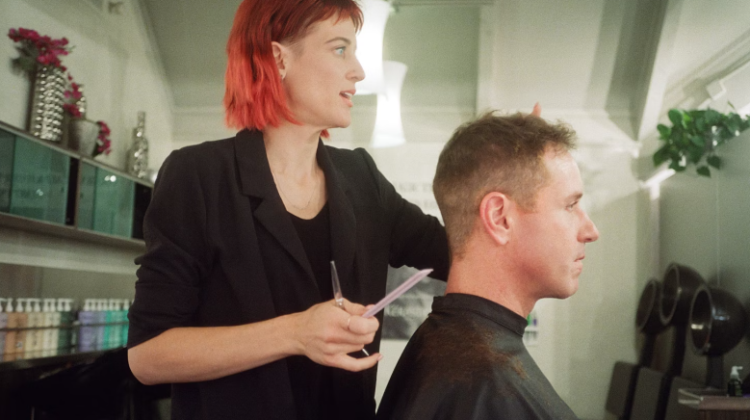 Hair straighteners are now essential to many people's hair care regimen. They offer a quick and easy way to achieve smooth, sleek hair.
However, recent studies have shown that certain chemicals in hair straightening products may increase the risk of developing various cancers.
This article will discuss the link between hair straighteners and cancer, the potential cancer-causing agents in hair straighteners, and how you can reduce your risk of cancer from hair straighteners.
How Does Chemical Hair Straightening Work?
As the name suggests, chemical hair straightening uses chemicals to break down the disulfide bonds in the hair.
The disulfide bonds are responsible for maintaining the natural shape of the hair. When broken, the hair can be reshaped into a straighter style. Once the bonds break, the hair is styled, and a neutralizer is used to maintain the latest shape.
The chemicals used in hair straightening treatments can vary depending on the type of treatment. Still, they generally contain harsh chemicals that can cause damage to the hair. Some of the most common chemicals used in hair straightening treatments are as follows:
Formaldehyde (methylene glycol and formalin)
Bisphenol A
Metals
Parabens
Di (2-ethylhexyl) phthalate (DEHP)
Ammonium thioglycolate
Sodium thioglycolate
Sodium hydroxide (lye)
Benzophenone-3
Cyclosiloxanes
Formaldehyde is a known human carcinogen, meaning it is known to cause cancer in humans. The U.S. Food and Drug Administration (FDA) proposed a rule that could effectively ban formaldehyde-based products.
The rule could come into effect as early as April 2024. However, there have been no developments as of yet.
The Link Between Hair Straightener Use and Cancer Risk
The relationship between chemical hair straighteners and cancer is not fully understood.
Yet the chemicals in hair straighteners can be harmful when absorbed through the scalp as they display estrogen-like properties. These chemicals increase the risk of developing uterine cancer, as well as other types of cancer, such as breast cancer.
Formaldehyde and other chemicals in hair straighteners can also cause respiratory problems, eye irritation, and skin irritation.
A recent 2022 study, the Sister Study, followed over 33,000 women in the U.S. for 11 years. Led by the National Institute of Environmental Health Sciences (NIEHS), the study concluded that women who used hair straightening products were twice at risk of developing uterine cancer than those who rarely used any.
Women who regularly used chemical straighteners were 2.5 times more prone to developing uterine cancer.
The increased risk was most notable in women with genetic predispositions or family histories of cancer. But even women without these added risk factors saw a slight rise in risk from daily hair straightener use.
Researchers speculate that the high heat from hair straighteners could cause cumulative DNA damage. Over time, this may drive abnormal cell changes that can lead to cancer development.
Prior research on the Sister Study indicates that using chemical-laced products and straighteners can also lead to a greater risk of breast cancer. Following these findings in 2021, researchers confirmed that frequent use of hair straightening products also increases ovarian cancer risk.
While more research is required into this topic, one thing's for certain: Frequent use of hair products does increase the risk of cancer.
How to Minimize the Risk of Cancer
To reduce your risk of cancer from hair straighteners, you can take the following steps:
Use hair straighteners in a well-ventilated area to reduce exposure to toxic fumes.

Choose hair straighteners that do not contain formaldehyde, phthalates, and parabens.

Use hair straighteners less frequently or switch to alternative styling methods, such as air-drying or a hair dryer with a diffuser attachment.

If you experience any cancer symptoms, see a doctor immediately for early detection and treatment.
Several hair straightener cancer lawsuit cases are underway against the manufacturers of these dangerous hair products. Plaintiffs are filing lawsuits claiming that the manufacturers failed to warn them of the potential health risks adequately.
According to TorHoerman Law, products from the following brands and manufacturers are under investigation:
L'Oreal
Softsheen-Carson (Optimum Relaxer)
Dark & Lovely
Just For Me
Motions Hair
ORS Hair Care (Namaste Laboratories, LLC)
African Pride (Godrej Group)
Revlon
Strength Of Nature
Always remember that you're in control of your health.
By staying updated about the latest developments and making informed choices about your hair products, you can reduce your risk of developing cancer and other health problems.
Conclusion
Awareness and knowledge are your best defense in the ongoing debate of hair straighteners and cancer.
By understanding the ingredients, practicing moderation, exploring alternatives, staying informed, and choosing regulated products, you can enjoy your desired hairstyle while avoiding cancer.
Remember, a well-informed choice is a beautiful choice.