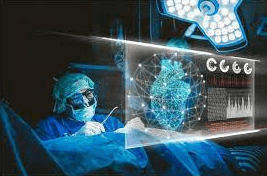 Medical Virtual Reality (VR) training is a cutting-edge educational approach that harnesses the power of virtual reality technology to enhance and revolutionize medical education, training, and skill development. By simulating realistic medical scenarios in a virtual environment, medical VR training provides healthcare professionals, students, and practitioners with immersive learning experiences that bridge the gap between theory and hands-on practice.
Key Components of Medical Virtual Reality Training
Here are the components of medical virtual reality training:
Realistic Simulations
Medical VR training offers lifelike simulations of medical procedures, surgeries, patient interactions, and diagnostic scenarios. These simulations recreate diverse medical environments, allowing learners to practice and refine their skills in a controlled, risk-free setting.
Immersive Learning
VR technology creates a sense of presence and immersion, enabling learners to interact with virtual patients, tools, and equipment as if they were real. This immersive experience enhances engagement, retention, and the development of muscle memory.
Personalized Learning
Medical VR platforms can adapt to the user's skill level and learning pace. Learners can repeat procedures, receive instant feedback, and focus on specific areas that require improvement, promoting a customized and efficient learning journey.
Remote Accessibility
Medical VR training is not limited by physical location. Healthcare professionals worldwide can access the training from their locations, making it convenient for continuous education, skill enhancement, and staying updated with the latest medical advancements.
Interactivity
Medical VR training often includes interactive elements where learners can manipulate virtual instruments, perform procedures, make critical decisions, and observe the consequences of their actions. This active participation fosters critical thinking and problem-solving skills.
Risk-Free Practice
Medical procedures and surgeries can carry inherent risks. Still, in a virtual environment, learners can practice without danger to patients. This helps build confidence and competence before working with real patients.
Multi-Disciplinary Training
Medical VR platforms can facilitate collaboration among different healthcare disciplines. Surgeons, nurses, anesthetists, and other specialists can participate in the same virtual scenario, promoting teamwork and effective communication.
Continuous Improvement
VR platforms can collect data on user performance, allowing educators to analyze trends, identify areas of improvement, and refine the training content to meet evolving medical standards and practices.
Applications
Here are applications of medical virtual reality training:
Surgical Training: Surgeons can practice complex procedures in VR environments, improving their agility, precision, and decision-making skills.
Diagnostic Skills: Medical students and practitioners can develop their diagnostic skills by interacting with virtual patients and interpreting symptoms, lab results, and medical imaging.
Emergency Scenarios: Healthcare professionals can train for high-pressure situations like trauma cases, cardiac arrests, and emergency room scenarios.
Patient Communication: VR training can help improve communication skills by simulating interactions with patients, families, and colleagues.
Pain Management: Virtual reality can distract patients during painful procedures, reducing the need for sedation.
Conclusion
We hope we guided you well on the medical virtual reality training. We also mentioned the applications of this field in this post. Medical virtual reality training has a number of applications that can improve patient care. By immersing patients in simulated environments, medical virtual reality training can help doctors better understand how the body functions.