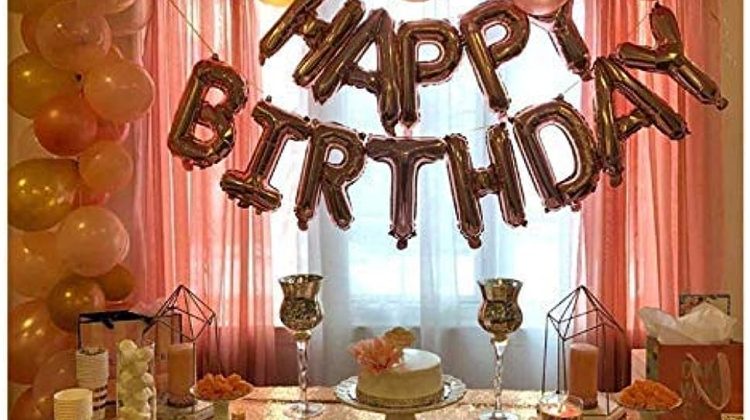 Balloons have long been associated with joy, celebration, and festivity, making them an essential element of birthday decorations. The art of balloon arrangements has evolved over the years, transcending simple balloon bunches to become an exquisite form of creative expression. From elegant centerpieces to whimsical sculptures, balloon arrangements have the power to transform any birthday celebration into a visually captivating and memorable event. In this article, we delve into the world of balloon arrangements, exploring techniques, design ideas, and tips to elevate your birthday decor with the enchanting charm of balloons.
The Creative Canvas of Balloon Arrangements
Birthday Balloon arrangements are more than just helium-filled orbs; they are a canvas for artistic expression. Balloon artists and decorators have honed their skills to craft intricate and imaginative designs that complement any birthday theme or style. Whether you're planning a child's birthday party, a milestone celebration, or a surprise gathering, balloon arrangements offer a versatile and eye-catching way to adorn your space.
Techniques and Styles
The art of balloon arrangements encompasses a variety of techniques and styles that can be tailored to suit your preferences and the occasion. Some popular techniques include:
1. Balloon Bouquets: Classic balloon bouquets involve arranging balloons in clusters, often anchored by a weight or centerpiece. These arrangements can feature various colors, sizes, and shapes, creating a dynamic and cheerful display.
2. Balloon Archways: Balloon arches add a touch of grandeur to any event. They can span doorways, entry points, or stages, instantly transforming the ambiance. Archways can be designed using a single color palette or a harmonious blend of hues.
3. Balloon Garlands: Balloon garlands are versatile and can be draped along tables, walls, or ceilings. They create a lush and festive look, and the arrangement can be customized with different balloon sizes and textures.
4. Balloon Sculptures: Balloon sculptures are true works of art, crafted by twisting and shaping balloons into intricate forms. From animals and characters to abstract shapes, these sculptures add a whimsical touch to the celebration.
Design Ideas and Themes
Balloon arrangements can be tailored to suit a wide range of birthday themes and styles:
1. Elegant Glamour: For a sophisticated celebration, opt for metallic balloons in gold, silver, or rose gold. Combine them with pearlized balloons for a touch of luxury and elegance.
2. Enchanted Garden: Create a magical atmosphere with pastel-colored balloons, flower accents, and whimsical balloon butterflies. Hang balloon garlands to mimic a blooming garden.
3. Tropical Paradise: Bring the beach vibes indoors with vibrant balloons in shades of turquoise, coral, and sunshine yellow. Add palm fronds and tropical fruit accents for a lively ambiance.
4. Vintage Carnival: Recreate the nostalgic charm of a vintage carnival with bold primary-colored balloons, striped patterns, and balloon carousels.
Tips for Balloon Arrangements
Color Harmony: Choose a color palette that complements the overall theme and decor of the birthday celebration.
Balloon Sizes: Experiment with different balloon sizes to add depth and visual interest to your arrangements.
Textures and Patterns: Mix and match balloons with different textures, such as metallic, matte, and transparent, to create a dynamic look.
Anchoring and Support: Ensure that your balloon arrangements are securely anchored to prevent them from floating away. Use balloon weights or decorative bases.
DIY vs. Professional: While DIY balloon arrangements can be fun, consider hiring a professional balloon decorator for intricate designs and large-scale installations.
Weather Considerations: If the celebration is outdoors, keep in mind that extreme heat or cold can affect the longevity of balloons.
In Conclusion
The art of balloon arrangements offers endless possibilities for elevating birthday decor with a touch of creativity and imagination. From classic bouquets to elaborate sculptures, balloons have the power to create a festive and enchanting atmosphere that will leave a lasting impression on guests of all ages. Whether you're aiming for elegance, whimsy, or a specific theme, incorporating balloon arrangements into your birthday celebrations will infuse your event with joy, color, and a sense of wonder.