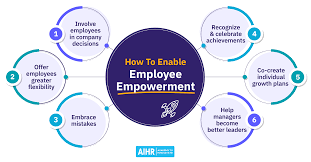 Empowering people is a critical strategy for encouraging development, innovation, and long-term success in today's fast-paced company climate. Delegation is one of the most effective strategies to empower your workers. By assigning meaningful tasks and duties to employees, you not only stimulate skill development but also foster a sense of ownership and accountability. In this blog, we'll look at the art of delegating to empower and propose excellent resources to help you get there.
Delegation Authority
Delegation is more than just assigning work; it is a leadership style that empowers people to take on roles and responsibilities that are a good fit for their abilities and interests. When done correctly, delegation can provide a number of advantages for both personnel and the business as a whole:
1. Skill Development:
Delegating activities that extend employees' talents and challenge them might lead to skill development. Employees might develop new skills and become more valuable assets to the firm over time.
2. Empowerment:
Delegation provides individuals with a sense of empowerment and responsibility over their job. They feel more involved and driven when they are trusted to make decisions and take on big duties.
3. Time Efficiency:
Delegation allows you, as a leader, to focus on high-priority projects that require your expertise while assigning regular or less critical responsibilities to qualified team members. This enhances overall productivity while also freeing up time for strategic thought.
4. Teamwork and Collaboration:
Effective delegation promotes teamwork and collaboration throughout the organization. It encourages team members to share their knowledge and talents and generates a sense of oneness.
Delegation Procedures
It is critical to follow a defined approach in order to gain the benefits of delegation. The following are the essential steps to efficient delegation:
1. Identify Tasks:
Begin by identifying jobs or responsibilities that can be delegated. These could be duties that do not require your specialized knowledge, ordinary chores, or projects that provide opportunity for learning.
2. Select the Right Person:
When deciding who to delegate to, consider your team members' talents, interests, and development aspirations. Match the work to the individual's strengths and goals.
3. Communicate Clearly:
Communicate the objectives, expectations, and intended outcomes of the allocated task clearly. Ascertain that the employee knows the significance of the assignment and how it relates to their function.
4. Provide Resources:
Provide the employee with the resources, tools, and support they need to succeed in their delegated position. Access to instruction, assistance, or mentorship may be included.
5. Empower Decision-Making:
Give the employee the authority to make decisions that are within the scope of their given tasks. Encourage them to take control of the task and make their own decisions.
6. Monitor Progress:
Check in on the progress of the allocated work on a regular basis. As appropriate, provide comments and assistance, but also give the employee space to learn from their experiences.
7. Recognize and Reward:
Recognize and reward employees for their efforts and accomplishments by delegating authority. Recognizing their efforts strengthens their sense of empowerment and encourages them to continue honing their skills.
Assistance Suggestions
Delegating tasks in your business is a strong tool for employee development and empowerment, but it can be difficult to apply effectively, particularly in complex or fast changing company situations. Consider obtaining guidance from leadership and management professionals to ensure that your delegation efforts correspond with your organization's goals and enhance employee growth.
Professional assistance can assist you in refining your delegation techniques, tailoring them to your specific company requirements, and providing continuous support to track success and make appropriate adjustments. This outside expertise can be essential in fostering an empowerment and skill development culture within your firm.
Conclusion
Delegating to empower is a leadership style that benefits not only employees but also your organization's growth and success. You create skill development, empowerment, and a sense of ownership by delegating tasks and responsibilities to your team members.
Remember that effective delegation needs a disciplined process that includes identifying duties, selecting the proper people, establishing clear expectations, offering assistance, and recognizing accomplishments. It's a never-ending process that can result in a more skilled, engaged, and motivated team, find more here.
Consider obtaining guidance from leadership and management specialists to ensure that your delegation efforts are well-aligned with your organization's goals and adapted to your individual needs. They can provide the coaching and assistance needed to help your staff develop their talents and foster an empowerment culture.
Consider teaming with a company like https://valescoind.com/ for experienced support in delegation and leadership development. Their knowledge and experience may assist you in implementing successful delegation practices that will empower your staff and drive organizational success.