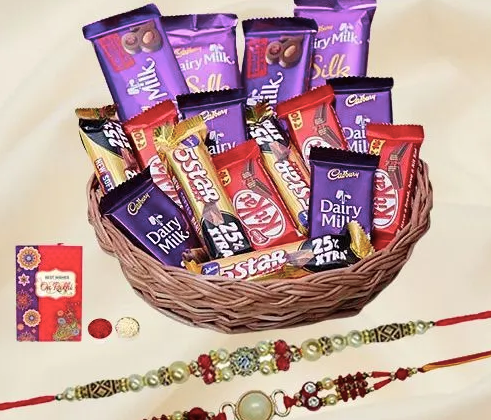 Raksha Bandhan, the festival celebrating the bond between brothers and sisters, is a time to express love, gratitude, and affection. Along with the traditional tying of the rakhi thread, exchanging gifts is a special way to convey emotions and make the occasion memorable. If you're looking for unique and meaningful gifts for your brother, consider rakhi gift combos that express your love and bring a touch of fragrance into his life.
From fragrances and grooming essentials to scented candles and personalized keepsakes, these gift combos are designed to create a lasting impression while filling the air with enchanting scents. Let's explore delightful rakhi gift combos that are sure to send love and fragrance to your brother, making this Raksha Bandhan truly special.
1] Fragrance And Grooming Combo
Pamper your brother with a delightful combination of fragrances and grooming essentials this Raksha Bandhan. Choose a sophisticated perfume or cologne matching his personality & style and pair it with a grooming kit that includes shaving cream, aftershave lotion, and a luxurious body wash. This combo will make your brother feel special and help him stay fresh and confident throughout the day.
2] Rakhi And Scented Candles Combo
Create a serene and aromatic atmosphere for your brother with a rakhi and scented candles combo. Opt for a beautifully crafted rakhi that reflects his taste and style combined with a set of scented candles in various fragrances like lavender, sandalwood, or citrus. These candles add a touch of elegance to the surroundings and create a soothing ambiance, perfect for relaxation.
3] Rakhi And Flower Gift Combo
The Rakhi and flower gift combo is a perfect way to express your love and affection for your brother on the auspicious occasion of Raksha Bandhan. Rakhi with flowers offers a delightful combo that combines the sacredness of the rakhi thread. This beauty combination will create a heartfelt and memorable gift for your brother, whose essence will last long.
4] Personalized Perfume And Photo Frame
Add a personal touch to your gift by customizing a perfume bottle with your brother's name or initials. Many online shopping sites offer personalized engraving services, allowing you to create a unique gift combo. Combine the personalized perfume with a stylish photo frame capturing a cherished memory of you and your brother that will create a lasting keepsake.
5] Perfume And Chocolate Hamper
Indulge your brother's senses with a delightful combination of fragrance and chocolates. Select a high-quality perfume from his favorite brand and complement it with a selection of gourmet chocolates or a chocolate hamper. The rich aromas of the perfume combined with the delectable taste of chocolates will create a luxurious and decadent experience, making your brother feel truly cherished.
6] Rakhi And Aromatic Tea Set Combo
If your brother is a tea enthusiast, surprise him with a rakhi and aromatic tea set combo. Choose a rakhi that complements his taste and pair it with a collection of high-quality teas in enticing flavors like jasmine, chamomile, or citrus-infused blends. This combo allows him to relax and savor his favorite teas' delightful aromas and flavors, making it a thoughtful and soothing gift.
7] Rakhi And Scented Bathrobe
Give your brother the gift of comfort and relaxation with a rakhi and scented bathrobe combo. Choose a soft and plush bathrobe in his favorite color and combine it with a fragrant fabric spray or scented sachets. This combo allows him to wrap himself in cozy luxury while enjoying the delightful scent, creating a spa-like experience at home.
8] Rakhi And Perfumed Bath Products
Treat your brother to a luxurious bathing experience with a rakhi and perfumed bath products combo. Opt for rakhi delivery with scented shower gel, moisturizing body lotion, and a fragrant bath bomb or bath salts. These indulgent products will nourish and rejuvenate his skin and envelop him in a refreshing and captivating fragrance, making him feel truly pampered.
9] Perfume And Home Fragrance Diffuser Combo
Help your brother create an inviting and pleasant environment in his living space with a perfume and home fragrance diffuser combo. Select a captivating perfume and pair it with a stylish home fragrance diffuser or reed diffuser set. Include fragrances like vanilla, cinnamon, or fresh linen, which can fill the air with a warm and welcoming scent, leaving a lasting impression on anyone who enters his home.
Take Away
Rakhi gift combos that combine love and fragrance offer a unique and heartfelt way to express your love for your brother on Raksha Bandhan. Whether it's a combination of fragrances and grooming essentials, Rakhi and scented candles, or personalized perfumes and photo frames, these gift combos go beyond material possessions. They symbolize the eternal bond between siblings and create lasting memories filled with beautiful scents.
By choosing these gift combos, you show your love and appreciation and add an enchanting aroma to the occasion. Embrace the opportunity to send love and fragrance to your brother and make this Raksha Bandhan a truly memorable and meaningful experience for both of you.