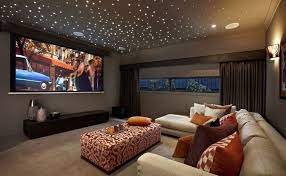 A home theater can be considered a haven for both movie buffs and music lovers. It's a place where you can fully immerse yourself in the details of your favorite movies and music. However, having the best home theater setup requires more than simply high-end audiovisual gear. The correct window treatments that improve acoustics and give light control are essential for a home theater makeover. We'll discuss the value of window treatments in home theaters and how they can enhance your audio and visual pleasure in this article. We'll also talk a little bit about how window treatment services contribute to the best possible home theater environment.
The Importance of Window Treatments for Home Theaters
Light control and acoustics are two essential elements that must be carefully managed to provide a true home theater experience.
1. Lighting Control for Optimal Viewing Experience
You have complete control over ambient light in your home theater, which directly affects how good your watching experience is. Unwanted window glare can distort the immersive environment and wash out the colors on your screen. You need window treatments that let you precisely control the quantity of light flowing in to counteract this.
2. Deep Sound Immersion Acoustics
The home theater's audio quality is crucial. Noise disturbances originating from outside sources or reverberations within the space may diminish the immersive experience. Window treatments are essential for controlling acoustics because they improve audio clarity and lessen noise disruption.
Selecting the Appropriate Window Treatments for Remodeled Homes
Let's now examine the top choices for window treatments to enhance your home theater experience:
1. Blackout Draperies and Curtains
Drapes or blackout curtains are a great option for home theaters. Their purpose is to completely obstruct light, resulting in a dim and engrossing atmosphere. To provide total light control, these curtains are usually composed of heavy-duty textiles with light-blocking liners.
Think about using drapes that cover the entire window or floor to ceiling blackout curtains to get the most out of them. When drawn, they give your screen a pitch-black background that amplifies color brightness and contrast.
2. Roller Shades with Motors
For the ultimate in light control convenience, consider motorized roller blinds. You can precisely manage the amount of natural light by adjusting the shades to your desired position using a remote control or smartphone app. This is especially helpful if you need to smoothly switch from watching movies during the day to watching them at night.
With the range of materials that motorized roller shades offer, including blackout options, you can achieve the ideal balance between style and light management.
3. Honeycomb or Cellular Shades
Because of their well-known ability to insulate, cellular or honeycomb shades are a great option for home theaters. They have an unusual construction that resembles a honeycomb that traps air to provide energy efficiency and sound absorption.
With the range of opacities available in cellular shades, you may select the ideal level of light filtering for your requirements. Additionally, they work well to block out outside sounds, making the space more acoustically optimized and silent.
4. Window Treatment Integration in Acoustic Panels
When looking for the best possible sound management, take into account acoustic panels that incorporate window coverings. By absorbing sound reflections within the space, these panels help to create an acoustically balanced environment. They frequently have built-in drapes or blinds that offer more light control.
Integrated window treatments combined with acoustic panels are an elegant way to improve your home theater's audio and visual components.
5. Track Blinds with Sliding Panels
A modern choice for huge windows or sliding glass doors in home theaters are sliding panel track blinds. They are made out of smooth fabric panels that glide along a track in a horizontal manner to provide flexible light control. When they are closed, they create the perfect setting for watching movies, but when they are opened, they reveal a panoramic vista.
6. Personalized Cornices or Valances
While hiding the hardware, adding bespoke valances or cornices to your window treatment design can give your home theater a sense of luxury. These ornamental accents can improve the space's appearance and add to its general atmosphere.
Services for Window Treatments in Home Theaters
Seeking expert advice from window treatment companies can help you achieve the ideal balance between light control and acoustics in your home theater. These professionals possess the knowledge and experience necessary to assist you in making wise choices and setting up the ideal space for listening and watching.
Here's how window treatment services can help you create the dream ambience for your home theater:
1. Evaluation: To suggest the best window treatments, experts will evaluate your home theater area, taking into account elements like window size, orientation, and ambient light levels.
2. Customization: Window treatment services provide tailored solutions to guarantee that your window coverings match the style and acoustics of your home theater.
3. Product Knowledge: Professionals can assist you in choosing the ideal goods for your home cinema since they have extensive knowledge of the different window treatment options available, including materials, styles, and technology.
4. Installation: To achieve the appropriate acoustics and light management, proper installation is essential. Services for window treatments guarantee that your window coverings are put securely and correctly.
5. Aesthetic Harmony: Experts can assist you in choosing window treatments that complement the interior décor of your home theater while boosting the room's visual and acoustic qualities, find more here.
In Conclusion, Improve Your Experience with Home Theater
Investing in cutting-edge audiovisual gear is just one aspect of creating the best home theater experience; another is choosing the appropriate window treatments to maximize acoustics and light management. To improve the ambience of your home theater, blackout curtains, cellular shades, motorized roller shades, and acoustic panels with integrated window treatments are all great options.
You can make sure that your window coverings are customized to your unique requirements and tastes by consulting window treatment services. This will enable you to enjoy the cinema and music worlds with unmatched comfort and clarity.