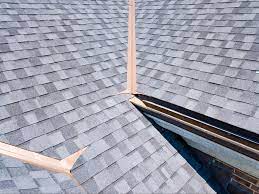 When it comes to safeguarding your property from the weather, your roof is quite important. It protects you from rain, snow, wind, and the hot sun. But there is an unsung hero in the story of roof health: flashing. Flashing is essential for preventing roof leaks and preserving the integrity of your roofing system. In this article, we'll look at the importance of flashing, how it contributes to leak prevention, and why it's critical to solve flashing concerns as soon as possible. In addition, for individuals in need of experienced support, we will quickly recommend professional roofing company services.
Recognizing Roof Flashing
Flashing is a thin, weather-resistant material that is normally composed of metal but can also be made of plastic or rubber. Its principal function is to seal joints and transitions in your roof where water may enter. Flashing is carefully applied in regions prone to water infiltration to keep these spots waterproof.
The following are some common areas on a roof where flashing is installed:
1. Valleys: Valleys are regions where two roof slopes meet, forming a low point where water can collect. In valleys, flashing is constructed to move water away from this sensitive area.
2. Chimneys: Water frequently enters through the connection between a chimney and the roof. This crossing is sealed with flashing to prevent leaks.
3. Skylights: Skylights let in natural light but can also be a source of leaks if not properly flashed and sealed.
4. Roof Vents: Openings in the roof are created by vents for plumbing, HVAC systems, and other functions. Flashing around these vents keeps water out of your home.
5. Dormers: Dormers are structures that protrude from a sloping roof. Flashing is utilized to protect the dormer's junction with the roof.
6. Wall Abutments: Flashing is constructed to form a watertight seal where the roof meets a vertical wall, such as a sidewall or parapet wall.
Flashing's Role in Roof Leak Prevention
Flashing is essential in preventing roof leaks by acting as a barrier against water incursion. This is accomplished in the following manner:
1. Water Diversion: Flashing diverts water away from vulnerable areas such as valleys, chimneys, and vents. It guarantees that water flows off the roof safely, lowering the chance of leaks.
2. Sealing Joints: Flashing is used to seal junctions and transitions where two different roofing surfaces meet. Water can seep into these joints and cause leaks if they are not properly sealed.
3. Expansion and Contraction: The ability of flashing materials to expand and contract with temperature changes is important. This elasticity allows the flashing to keep its seal over time, even when the roof moves naturally.
4. Wind-thrown Rain Protection: In windy conditions, rain can be thrown horizontally against the roof. By sealing vulnerable regions, flashing adds an extra layer of protection against wind-driven rain.
Common Flashing Problems and Their Repercussions
Due to exposure to the environment, flashing can corrode or become damaged over time. When flashing fails, it can cause a number of issues, including roof leaks and water damage. Here are some examples of common flashing problems and their consequences:
1. Corrosion: Over time, metal flashing can corrode, compromising its integrity and allowing water to permeate.
2. Lifting or Separation: Flashing can rise or separate from the roof surface, causing spaces through which water might seep.
3. Cracking or Bending: Flashing materials can crack or bend, particularly in places with high temperature variations.
4. Improper Installation: If flashing is not properly put, it may fail to produce a watertight seal, leaving vulnerable regions prone to water penetration.
5. Aging: Flashing may lose flexibility and become less effective at sealing joints and transitions as it ages.
Taking Care of Flashing Problems
It is critical to correct flashing faults as soon as possible in order to avoid roof leaks and costly water damage. Here's how to deal with frequent flashing issues:
1. Regular Inspections: Schedule frequent roof inspections, especially following severe weather events. Examine the flashing for evidence of corrosion or deterioration.
2. Repairs: If you find damaged or badly installed flashing, contact a roofing specialist to have it fixed. As needed, they can replace or reseal the flashing.
3. Replacement: In some circumstances, flashing is irreparable and must be replaced. Professional roofers can inspect your flashing and advise you on the best option.
4. Maintenance: Proper maintenance might help to extend the life of your flashing. To prevent water buildup, keep roofing surfaces clean of debris and gutters and downspouts in good working order.
Professional Roofing Company Services Recommendation
Addressing flashing difficulties, whether repair or replacement, frequently necessitates the services of a skilled roofing business. Pinnacle Exteriors Inc. have the knowledge, experience, and instruments needed to accurately analyze flashing issues and deliver efficient remedies. They may also perform complete roof inspections to detect hidden problems and verify that your roofing system is watertight.
Finally, flashing is an important component of your roofing system, as it plays an important function in avoiding roof leaks and water damage. Flashing that is properly installed and maintained is critical to keeping your home dry and protected from the elements. Regular inspections and timely resolution of flashing concerns can help to extend the life of your roof and avoid costly repairs. Consider hiring a professional roofing company to handle your flashing needs for peace of mind and the finest protection for your property, find more info about Pinnacle Exteriors Inc.