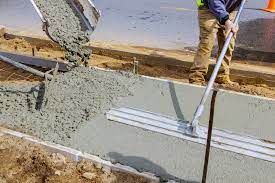 Concrete is the modern building industry's backbone. Concrete is essential in bringing big construction projects to life, from skyscrapers to durable bridges and exquisite architectural masterpieces. However, without the experience of concrete contractors, the successful use of concrete in these projects would be impossible. In this blog post, we'll look at the critical role that concrete contractors play in construction projects, emphasizing their responsibilities, talents, and the value of hiring a professional concrete business.
The Foundation of Modern Construction
Concrete has been used in construction for millennia, but its versatility and strength have elevated it to the forefront of modern building materials. Concrete is without a doubt the backbone of the building sector. This is why:
Structural Integrity: Concrete offers structural integrity, which is required to support the weight of buildings, bridges, and other structures. Because of its compressive strength, it is an excellent choice for load-bearing parts.
Durability: Concrete constructions are well-known for their durability and longevity. They can survive difficult weather conditions such as high temperatures, humidity, and seismic activity.
Versatility: Concrete may be molded and formed into a variety of shapes, making it appropriate for a wide range of building applications, including foundations and walls, as well as ornamental features and countertops.
Sustainability: Concrete can be made using environmentally friendly processes and materials, contributing to environmentally responsible construction.
Concrete Contractors' Role
Concrete contractors are highly skilled experts who plan, prepare, pour, and finish concrete in construction projects. Their function is varied, and they play an important role in ensuring that concrete structures meet safety regulations, structural requirements, and design specifications. Here's a closer look at the primary duties of concrete contractors:
Project Planning: Concrete contractors collaborate closely with project architects and engineers to fully understand the project's requirements and specifications. They assist in the planning of the concrete mix design, installation procedures, and project scheduling to guarantee that the project runs successfully.
Site Preparation: Before pouring concrete, the site must be properly prepared. Excavation, grading, and the construction of formwork or molds that define the shape of the concrete structure are all operations that concrete contractors manage.
Concrete Mixing: Contractors are responsible for selecting the suitable concrete mix, which includes selecting the necessary type of cement, aggregates, and additives to satisfy the project's specific needs. They make certain that the mix is properly adjusted for maximum strength and longevity.
Pouring and Placing: Once the concrete mix is complete, concrete contractors supervise the pouring and placement of the concrete into the formwork. Precision is required to attain the desired shape and alignment.
Finishing: Contractors are responsible for completing the surface after the concrete has been put. Depending on the design requirements of the project, this may include smoothing, texturing, or generating beautiful patterns.
Curing and Protection: To obtain the desired strength and durability, concrete must cure properly. During the curing process, contractors take precautions to prevent the concrete from quick drying, excessive temperature variations, and moisture loss.
Quality Control: Concrete contractors conduct quality control tests at every stage of the construction process. They make certain that the concrete satisfies the necessary norms and requirements.
Safety Compliance: Safety is a primary priority in construction, and concrete contractors are responsible for following safety measures to prevent accidents and injuries on the job site.
Scheduling and Coordination: Concrete builders collaborate with other professions, such as electricians and plumbers, to ensure that their work is completed on time.
Problem-Solving: Issues such as formwork damage, weather-related delays, and unforeseen site circumstances might develop during construction, and concrete builders are prepared to manage them.
The Value of Expert Concrete Company Services
In construction projects, the value of competent concrete business services cannot be emphasized. Here are some compelling reasons why hiring competent concrete contractors is critical:
Technical Knowledge: Local concrete contractors have in-depth knowledge of concrete materials, mix designs, and construction procedures. Their technical expertise ensures that the concrete used in your project satisfies the required strength and durability standards.
Experience: Concrete contractors have a wealth of expertise working on a wide range of building projects. Their knowledge enables them to overcome obstacles and provide high-quality results.
Quality Control: Reputable concrete businesses utilize high-quality materials and follow industry best practices. Because of this devotion to excellence, the concrete structures they construct are structurally stable and long-lasting.
Efficiency: Professional contractors have the skills and equipment to execute concrete work swiftly, decreasing construction time and disrupting project schedules.
Code Compliance: Building codes and standards must be followed during construction projects. Professional concrete contractors are familiar with these codes and will guarantee that your project meets all applicable standards.
Safety: Construction safety is of the utmost importance. Professional concrete contractors stress safety standards in order to protect their employees and provide a safe working environment.
Project Management: Concrete contractors have extensive project management knowledge. They supervise all parts of the concrete work, from design to completion, ensuring that each phase is carried out smoothly.
Problem-Solving: Unexpected obstacles abound in construction projects. Professional contractors have problem-solving abilities that enable them to address issues quickly and efficiently, minimizing delays and cost overruns, learn more here.
Conclusion
Concrete contractors are the hidden heroes of the construction business, vital in bringing big projects to fruition. Their skills, technical knowledge, and dedication to quality ensure that concrete constructions satisfy safety, durability, and design parameters.
It is critical to seek the services of expert concrete contractors in order to complete successful building projects that will stand the test of time. Their knowledge, commitment to safety, and adherence to industry best practices are vital assets that contribute to the success of any construction project. So, whether you're constructing a new house, a commercial complex, or a remodeling project, keep in mind that expert concrete firm services are an important part of your construction team.