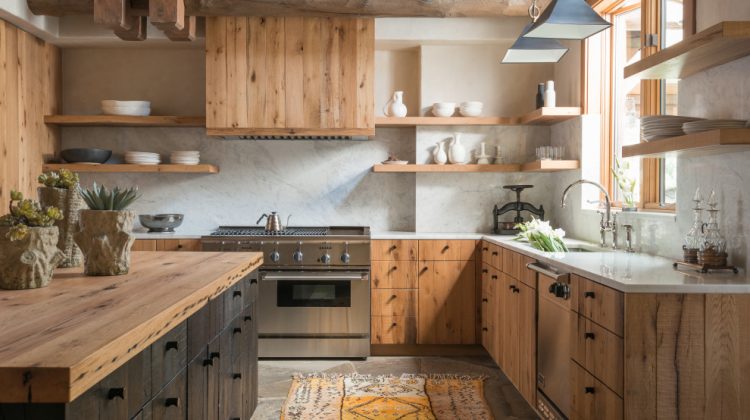 In the realm of interior design, the fusion of contrasting styles often yields remarkable and captivating results. One such captivating blend is found in the concept of modern rustic cabinets. Marrying the sleek sophistication of modern aesthetics with the timeless charm of rustic elements, these cabinets offer a unique and compelling addition to contemporary living spaces. Let's delve into the world of modern rustic cabinets and explore what makes them an alluring choice for both traditionalists and modernists.
Embracing the Modern Rustic Fusion
Modern rustic cabinets seamlessly blend characteristics from two distinct design styles:
Modern Elegance
Modern design is marked by clean lines, minimalistic ornamentation, and a focus on functionality. Modern cabinets often feature sleek surfaces, neutral color palettes, and the use of materials like glass, metal, and engineered wood. The emphasis is on creating an uncluttered and visually streamlined appearance, perfect for those who appreciate simplicity and a clutter-free environment.
Rustic Charm
On the other end of the spectrum, rustic design draws inspiration from nature and embraces imperfections. Rustic cabinets often incorporate natural materials such as wood, stone, and distressed finishes. The charm of rustic design lies in its warm, inviting ambiance, often achieved through the use of earthy tones and textured surfaces. It's a style that evokes feelings of comfort and nostalgia.
The Allure of Modern Rustic Cabinets
The combination of these seemingly contradictory styles gives rise to modern rustic cabinets that possess a unique allure:
1. Character and Personality
Modern rustic cabinets bring character and personality to a space. The juxtaposition of sleek modern lines with the warmth of rustic materials creates a visual dynamic that is both intriguing and inviting. The imperfections in the wood, such as knots and grains, add a sense of history and authenticity to the piece.
2. Versatility
These cabinets effortlessly bridge the gap between traditional and contemporary settings. They can complement a range of interior design styles, from industrial and farmhouse to transitional and eclectic. The adaptability of modern rustic cabinets ensures that they can find a place in various rooms, from kitchens and dining areas to living rooms and bedrooms.
3. Texture and Visual Interest
The blend of textures found in modern rustic cabinets captivates the eye. The smooth surfaces of modern design interact with the tactile appeal of rustic materials, creating a tactile and visual contrast that adds depth and interest to the piece.
4. Timeless Appeal
The charm of rustic design is timeless, while modern design introduces a touch of contemporary elegance. This fusion results in cabinets that can withstand changing design trends, ensuring that your investment remains relevant and stylish for years to come.
5. Personalization
Modern rustic cabinets offer ample opportunities for personalization. You can choose cabinets that feature reclaimed wood for a truly authentic rustic feel or opt for a more polished modern look with rustic accents. The ability to mix and match allows you to create a cabinet that aligns perfectly with your aesthetic preferences.
Integrating Modern Rustic Cabinets
When incorporating modern rustic cabinets into your interior design:
Balance: Ensure a balance between modern and rustic elements in the room to create a cohesive look.
Color Palette: Select a color palette that complements both styles, such as neutral tones with pops of warm hues.
Accents: Use accessories like hardware and lighting fixtures to tie together the modern and rustic elements in the space.
Contrast: Embrace the contrast between sleek surfaces and textured materials to highlight the cabinet's unique features.
Functionality: Prioritize functionality in the design, as modern design emphasizes usability. Incorporate features like soft-close mechanisms and efficient storage solutions.
In Conclusion
Modern rustic cabinets beautifully marry the contemporary with the traditional, offering a design choice that is rich in character and versatility. The blend of modern sophistication and rustic charm creates cabinets that are not only functional but also visually captivating. Whether you're drawn to the warmth of rustic materials or the clean lines of modern design, modern rustic cabinets provide a harmonious synthesis that elevates your interior space to new heights of elegance and charm.