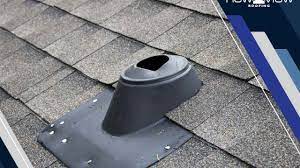 The roof of your home serves as an important protective barrier, shielding you and your things from the weather. While shingles and underlayment are important in keeping your roof watertight, another important component that sometimes goes ignored is roof flashing. Roof flashing is an important component in preventing and repairing roof leaks, and understanding its significance can help homeowners keep their homes dry and leak-free. In this blog, we'll look at what roof flashing is, how it protects your property, how to spot flashing problems, and why expert roofing business services can help.
What Exactly Is Roof Flashing?
Roof flashing is a weather-resistant material that is put in vulnerable areas of your roof to keep water out. Metals such as aluminum, copper, or galvanized steel are commonly used, however synthetic materials can also be used. Roof flashing is used in situations where water is likely to leak through, such as:
1. Roof Valleys: Valleys are the points at which two roof slopes intersect. In some situations, flashing is used to direct rainfall away from the roof and prevent pooling.
2. Chimneys: Water frequently enters through the base of a chimney. Flashing is used to prevent water from invading the gap between the chimney and the roof.
3. Vent Pipes: Protruding vent pipes from your roof can expose you to danger. To build a waterproof seal around these pipes, flashing is required.
4. Skylights: If not correctly flashed, skylights might leak. Flashing around skylights helps to keep water out.
5. Roof Edges and Eaves: Flashing is built along your roof's edges and eaves to keep water from running underneath the shingles.
The Function of Roof Flashing
Roof flashing performs several important tasks in preventing water damage to your home:
1. Water Diversion: Flashing diverts rainwater and melting snow away from sensitive regions. Water is directed to the gutters and downspouts rather than seeping through the roof.
2. Joint Sealing: Flashing forms a tight seal around roof penetrations like chimneys, skylights, and vents. This seal keeps water from entering these apertures.
3. Corrosion Resistance: Flashing materials are corrosion resistant, assuring long-term endurance. They are resistant to rain, snow, and UV radiation.
4. Shingle Preservation: Flashing protects the edges of your shingles, which can be damaged by wind, hail, and other weather-related issues.
5. Ice Dam Prevention: In colder areas, flashing aids in the prevention of ice dams by directing water away from roof eaves and prevents water from backing up under shingles.
Symptoms of Flashing Problems
Flashing that is properly installed and maintained should provide effective protection against roof leaks. However, flashing can fade or become destroyed with time. Here are some frequent flashing issues to look out for:
1. Water Stains: Water stains on your ceiling or walls are an obvious sign of water intrusion. This could be due to faulty flashing.
2. Missing or Damaged Flashing: Inspect your roof visually for missing or damaged flashing in critical places such as roof valleys, chimneys, and vents.
3. Rust or Corrosion: Over time, metal flashing can rust or corrode, reducing its effectiveness. Examine your flashing material for signs of rust.
4. Loose or Lifted Flashing: Loose or lifting flashing from the roof surface might provide gaps for water to enter.
5. Cracked Sealant: To form a waterproof seal, sealant is frequently used in conjunction with flashing. If you notice broken or deteriorated sealant around flashing areas, it may be time to reseal.
6. Degraded Flashing Material: Flashing material might wear down, become brittle, or develop holes over time. Examine the flashing carefully for signs of degradation.
Why Are Professional Roofing Company Services Important?
Flashing problems necessitate experience and precision. Here are some of the reasons why Rooftech Construction services are required when dealing with flashing issues:
1. Complete Inspection: Roofing professionals have the skills and experience to conduct complete flashing inspections. They can detect hidden problems and evaluate the condition of the flashing material.
2. Correct Installation: For flashing to be effective, it must be installed correctly. Professional roofers adhere to industry best practices and manufacturer specifications to ensure appropriate flashing installation and a watertight seal.
3. High-Quality Materials: Reputable roofing firms employ high-quality flashing materials that are resistant to weather and time. They can advise you on the best materials for your unique requirements.
4. Custom Solutions: Because every roofing project is different, professionals personalize their solutions to your individual flashing needs. They can give a tailored solution for resealing existing flashing or replacing damaged flashing.
5. Prompt Repairs: Addressing flashing issues as soon as possible is critical to preventing more water damage. Professional roofing services work quickly and efficiently to finish repairs on time.
6. Preventative Maintenance: Roofing contractors can provide continuing maintenance services to keep your flashing in good shape. Regular inspections and maintenance might help your flashing last longer.
7. Safety Precautions: Roofing work can be dangerous, especially when dealing with flashing in high places. Professional roofers have received safety training and have the required equipment to safeguard themselves and your property.
8. Warranty & Guarantees: Many professional roofing businesses provide labor and material warranties. This gives you peace of mind, knowing that your investment is safe.
Conclusion
Roof flashing is an important component in preventing and repairing roof leaks, keeping your home dry and free of water damage. Recognizing flashing concerns and utilizing professional roofing business services as needed can assist you in maintaining a waterproof and storm-resistant roof. Remember that good flashing installation and maintenance is an investment in your home's long-term health and protection. By remaining alert and proactive, you can ensure that your roof remains weatherproof, giving you piece of mind for years to come, learn more here.