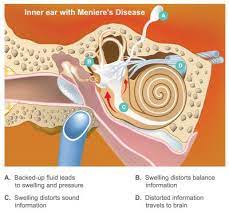 Living with Meniere's illness can be a difficult and stressful experience. This chronic illness affects the inner ear and can cause vertigo, dizziness, nausea, and hearing loss, among other symptoms. While there is no cure for Meniere's disease at this time, there are several therapy options available to assist control its symptoms and enhance the quality of life for people who suffer from it. Vestibular therapy, a type of physical treatment that focuses on the vestibular system, is one such approach. In this blog post, we will look at Meniere's disease, how it affects daily living, and how vestibular therapy can be a useful tool in controlling this condition. In addition, we will recommend services supplied by a professional vestibular rehabilitation clinic.
Meniere's Disease: An Overview
Meniere's disease is a chronic inner ear illness affecting the vestibular system, which controls balance and spatial orientation. While the specific etiology of Meniere's disease is unknown, it is thought to be connected to an abnormal buildup of fluid in the inner ear, which can disturb normal vestibular system function. This disturbance can cause a variety of incapacitating symptoms, including:
1. Vertigo: The most distinguishing feature of Meniere's illness is sudden and severe spells of vertigo. Meniere's disease patients may experience a spinning sensation, which is frequently accompanied by nausea and vomiting.
2. Tinnitus: A ringing, buzzing, or hissing sound in one or both ears is common in persons with Meniere's illness. Tinnitus can be both distressing and disruptive.
3. Hearing Loss: Meniere's disease can cause temporary or permanent hearing loss over time. Low-frequency noises are usually affected by hearing loss.
4. Aural Fullness: Some Meniere's patients report a sensation of fullness or pressure in the affected ear, similar to that felt when flying or changing altitudes.
5. Imbalance and Dizziness: In addition to vertigo, people with Meniere's disease may have overall unsteadiness and an increased risk of falling.
The combination of these symptoms can make daily life difficult for persons suffering from Meniere's illness. Walking, driving, and even socializing can become intimidating and anxiety-inducing. Fortunately, there are several treatments available to assist control these symptoms, with vestibular therapy being one of the most promising.
What Is Vestibular Therapy?
Vestibular therapy, also known as vestibular rehabilitation therapy (VRT), is a type of physical therapy that is used to restore balance, reduce dizziness, and improve general function in people who have vestibular illnesses, such as Meniere's disease. The vestibular system is a complex network of inner ear structures that work together to convey information to our brain about our body's location and motion in space. When this system is interrupted, as in Meniere's illness, the devastating symptoms indicated previously can occur.
Vestibular therapy seeks to address these concerns by focusing on specific vestibular system abnormalities. Individuals will engage with a certified vestibular therapist to develop a personalized exercise program that will help them improve their balance, reduce dizziness, and recover confidence in their everyday activities. These activities may include:
1. Gaze Stabilization Exercises: These exercises assist a person maintain attention on a stationary object while their head is moving, which can minimize dizziness and unsteadiness.
2. Balance Training: Balance exercises assist people develop their core muscles and enhance their general stability, lowering their chance of falling.
3. Habituation Exercises: Habituation exercises expose people to movements or situations that cause their symptoms, progressively desensitizing their vestibular system and lowering the severity of their symptoms over time.
4. Canalith Repositioning Maneuvers: These maneuvers can aid in the repositioning of misplaced ear crystals, which are a common cause of vertigo in Meniere's illness.
5. Activities for General Strength and Conditioning: These activities assist people improve their physical fitness, which can improve their overall well-being and quality of life.
What Vestibular Therapy Can Do
Vestibular therapy has various advantages for those with Meniere's disease:
1. Symptom Management: Vestibular therapy can help people regain control of their life by reducing the frequency and intensity of vertigo attacks.
2. Improved Balance: By addressing balance-related disorders, vestibular treatment assists individuals in lowering their risk of falling and increasing their confidence in doing daily tasks.
3. Enhanced Quality of Life: With fewer symptoms and better balance, people can experience a higher quality of life, including the capacity to participate in social activities, employment, and leisure activities.
4. Reduced Reliance on Drugs: Vestibular therapy can lessen the need for drugs, which may have unfavorable side effects.
5. Long-Term Advantages: The skills and methods taught in vestibular treatment can have a long-term benefit, allowing individuals to manage their condition more effectively over time.
Vestibular Therapy Service Recommendation
Finding a trained vestibular therapist is critical for effective symptom management and increased quality of life in those with Meniere's disease. One prominent center specializes in vestibular treatment and provides full services to persons with vestibular diseases. Their professional therapists are committed to giving specialized care and assistance to individuals in order to help them regain their balance and confidence in daily life, find more info about NC Center for PT.
To summarize, living with Meniere's illness can be difficult, but there are therapy alternatives to assist manage its symptoms. Vestibular therapy is a significant tool for people suffering from Meniere's disease, providing symptom alleviation, greater balance, and a higher quality of life. If you or a loved one has Meniere's disease, consider seeking the specialist services of a clinic that offers expert vestibular therapy to assist you on your path to a more balanced and satisfying life.