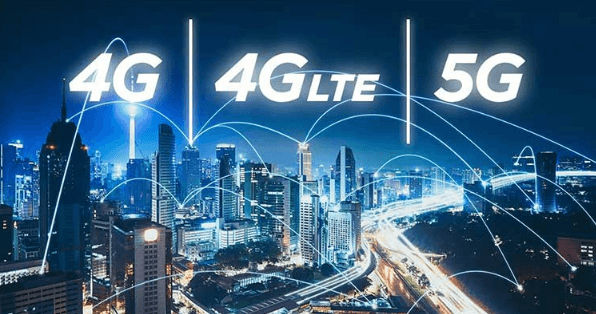 When it comes to home internet, you shouldn't have to forego fast and secure access in order to save money. Modern houses require a flexible internet plan with enough capacity and speed to manage all we do on the internet, whether at home or abroad. From paying bills and shopping on mobile devices to keeping connected to friends and family or planning every aspect of your next trip, a fast and dependable cellular connection has become a need for staying connected to everything that is important to you and your family.
We explain the differences between LTE and 5G here to help you determine which is best for your mobile devices at home or on the go.
What Exactly Is LTE?
Most cellular signal providers continue to supply Fourth-Generation or 4G LTE cellular signal (or radio signal) services today. LTE, or Long Term Evolution, is the designation given to prior 2G and 3G mobile communications networks when the mobile phone craze first began in 2008. Because 4G LTE signals are quicker and more reliable than earlier LTE signals, the 4G project, which is the current wireless standard for LTE communications, has significantly improved how we utilize mobile phone networks.
When compared to 3G technology, LTE 4G networks offer faster downloading and uploading speeds as well as higher bandwidth capacity for mobile devices of up to 100 MHz. When it comes to mobile devices such as smartphones, portable gaming consoles, laptops, tablets, and e-readers, bandwidth is critical to managing modern software, apps, and platforms that require massive amounts of information, memory, graphics, and so on.
What Exactly Is 5G Cellular Technology?
The Fifth-Generation, or 5G, mobile service standard, which was launched in 2018, represents the current level of sophisticated cellular technology. 5G was created to provide mobile users with practically limitless access to everyone and everything, including industrial machinery, workplace automation equipment, and smart home gadgets. Because of the enhanced connection, continuous data flow, and low-latency properties of 5G networks, mission-critical applications such as medical equipment and automobile safety systems rely on them.
Older cellular technology included network connection delays, which meant that data would take longer to transfer or users would have delayed reaction times, such as when viewing huge web pages or documents. Today, thanks to the 5G network's low latency and quicker speeds, all businesses, including manufacturing, finance, automotive, and others, leverage the nearly limitless capability of 5G cellular technology for mobile (or in-field) production.
A LTE vs. 5G Comparison
The current wireless broadband communication protocols, LTE and 5G have significant variations. Some of the figures presented here are averages and may differ based on your cellular service provider.
Speed
Bits per second (bps) are often used to assess network speed or bandwidth. Many programs, such as Pandora, Facebook, and YouTube, would be inaccessible if not for current bandwidth limitations. The bandwidth will be supplied by your internet service provider (ISP) in megabits per second (Mbps) or gigabits per second (Gbps). 5G networks can give rates of up to 1Gbps, but LTE networks are typically restricted to 100Mbps.
Capacity
Cellular network capacity is the greatest amount of data that may be transferred at any particular time. When it comes to running a business, having enough network bandwidth ensures that work continues uninterrupted (no system breakdowns). A 5G network, as a matter of thumb, can accommodate up to 10,000 devices without overwhelming the infrastructure. LTE networks can only support roughly 1000 concurrent users.
Coverage
All cellular signals are geographically confined to a geographic area where the mobile device may make cellular calls on your carrier's network. The number of cell towers in the region will determine your cellular signal coverage. Most LTE service providers can cover 99% of the US mainland; however, 5G is a relatively new technology that is currently being deployed. When a 5G signal is not available in the region, most mobile devices will automatically transition to the LTE communication standard to limit the possibility of cell signal loss.
Latency
The smaller the latency of the cell signal, the faster data is transported from one location to another. LTE takes longer to upload or send data to an end user. When utilizing mobile phone devices, 5G networks cut download times to roughly four milliseconds, and crucial equipment, such as safety features in current cars or self-driving vehicles, have just one millisecond of delay.
Pervasiveness
When in an elevator, a tunnel, in open places such as rural areas, or near land masses such as mountains or dense forestry, LTE may experience lost calls or a lack of connectivity. Unlike LTE, 5G was supposed to be ubiquitous and provide a more seamless user experience.
Security
When compared to LTE, 5G was also developed with stronger security safeguards in place. 5G is more than simply a speedier network; it assures connection trust and protects against hackers. As a result, 5G is utilized for critical applications such as cloud computing and storage, as well as IoT-related applications. While cyber risks are always there, it is doubtful that someone will be able to hack your home automation systems and switch off your smart lighting or security systems via 5G.
Despite the fact that the advantages of 5G communication networks obviously transcend those of LTE, LTE is more widely available and frequently more inexpensive. For older devices that do not support 5G, an LTE network is unquestionably the best choice.
Contact Unlimited LTE Advanced for a variety of LTE, 4G, or 5G cell services for home or business, rural or RV internet access, or internet service for long-distance trucking or boating to learn more about which communications network is suitable for your home, company, or mobile devices.
We provide dependable internet service as well as mobile hotspot access to ensure that you are always connected, no matter where you are. We can provide Advanced LTE at 5G speeds at Unlimited LTE, which means you never have to replace your existing devices to access the speed and connection of a 5G network. To learn more about all our internet services, such as 5G home internet, please visit us today!