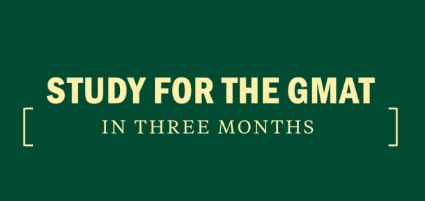 Preparing for the GMAT exam in three months may seem daunting, but it is achievable with the right approach and mindset. The key to success is to stay organized, focused, and consistent in your preparation. In this blog, we will look at ten study tips to help you ace the Examlabs.
Tips To Prepare for GMAT in 3 Months
Only 3 months or so is left for your GMAT exam? Don't worry, we have some best tips that you can follow and stay ahead of your competition.
Start with a solid foundation
Only 3 months? You have no time to get back to where it all started and study everything in detail. But the basics should not be avoided. Many students make this mistake and fall in the losing side.
Basics are really important for any exam. Even though you don't have much time, you can simply brush up those chapters by reviewing basic concepts. Moreover, practicing with exercises or problems will help you get the basics strong.
Familiarize yourself with the exam format
Don't panic! Understanding the syllabus first. Analyze the question paper. Check which topics are important. Many students in a hurry don't check the syllabus properly and end up preparing for topics that are not in the syllabus. Make sure you don't skip any topic or waste your time only on something that is not included in the syllabus.
Taking a diagnostic test will help you identify your strengths and weaknesses. Hence you can focus your efforts on the areas that require more attention and improvement.
GMAT exam prep in 3 months needs proper planning. Create a study plan that fits your schedule and allows you to cover all the topics and practice questions within three months. Set specific goals for each week or month leading up to the exam, and schedule study sessions accordingly.
Make sure you are consistent, work as per the plan. Don't set too high goals that you can't follow up later. Be practical about how much time you can devote to studying, and try to stick to your plan as much as possible.
Look for resources that are reputable and reliable, and don't be afraid to ask for recommendations from others who have taken the exam.There are many online resources available for GMAT exam prep, such as practice tests, videos, and blogs. Utilizing these resources can help you gain a deeper understanding of the exam and its content.
Also, don't forget the King of social media – YouTube. We cannot deny the fact that youtube is a great place for students, especially those who are preparing for competitive exams. Find channels that help you get a deeper understanding of topics in a simple manner. That will ease preparation within 3 months.
You can also consider takingGMAT classesto get a more structured approach to your study where they will prove many resources available that are specifically designed to help you prepare for the GMAT. These can include study guides, practice exams, and online forums where you can connect with other test-takers.
You can also check out material from GMAT official Website, where plenty of practice sets are available. The GMAT exam questions are designed to test specific skills, and the official GMAT exam prep material provides the best guidance on what to expect.
Practice, practice, practice
Practice is key to success in the GMAT exam. The more you practice, the more comfortable and confident you will be on exam day. Moreover, practicing will help you get familiar with the question pattern and the marking system.
As you're not allowed to use a calculator, mental math is a critical skill for the GMAT. Hence, you must practice mental math regularly to improve your calculation speed and accuracy. Remember practice tests are an excellent way to familiarize yourself with the GMAT format. So keep practicing!
To get better results, try taking mock tests every week. This will help you get used to the format of the exam and develop good test-taking habits. Use these tests to gauge your progress and track your improvement over time.
Try to simulate test conditions as much as possible, such as taking practice exams under a set time limit. This will improve your speed and you won't panic during the exam.
After attempting mock tests, identify the areas where you struggle the most, and focus your studying on these areas. Calculate your mock test score and see how much you've improved and where you struggled the most. This will help you improve your overall score and increase your confidence on test day.
Learn time-management skills
Like any other exam, time management is crucial on the GMAT as well. As you only have a limited amount of time to complete each section. Practice pacing yourself during your study sessions to get comfortable with the time constraints.
Stay focused and motivated
Studying for the GMAT can be a long and challenging process, so it's important to stay focused and motivated. Celebrate your progress and use positive self-talk to keep yourself motivated.
Studying for the GMAT can be exhausting, so it's essential to take breaks and reward yourself for your progress. You can plan a fun activity or treat yourself to something you enjoy.
Remember, It is important to take breaks while studying to avoid burnout and give your brain time to rest and process information.
Flashcards can help you memorize key concepts and formulas, making it easier to recall them during the exam. You can create your own or use online resources.
If you need extra help, consider hiring a GMAT tutor. A tutor can provide personalized guidance and feedback.
Use GMAT exam books and GMAT exam prep courses
GMAT exam books are an essential tool for studying for the GMAT exam. They provide practice questions, sample tests, and other helpful resources to help you prepare for the exam.
There are many GMAT exam books and GMAT exam prep courses available, both online and in-person. You can check these our, see which author's writing suits you the best. Don't buy books with peer pressure. Take only those that you find easy to ndestand and cover essential points in a short and crisp manner.
Finally, Don't forget to take care of yourself as you prepare for the GMAT. Get enough sleep, exercise regularly, and eat a healthy diet. Taking care of your physical and mental health can help you stay focused and motivated as you study.
Wrapping Him
Preparing for the GMAT exam in three months requires dedication, discipline, and the right resources. By following these study tips and using GMAT exam books and GMAT exam prep courses, you can increase your chances of success. Remember to stay focused, stay positive, and stay motivated. Good luck!