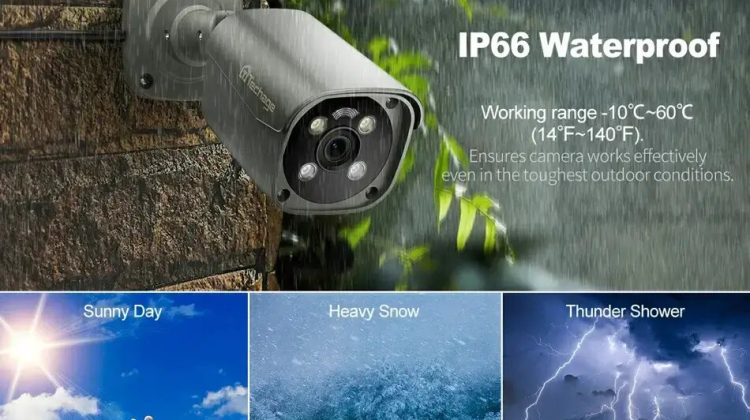 In an era where security is a top priority, technological advancements continue to reshape how we protect our homes, businesses, and public spaces. A standout innovation in the realm of security is the emergence of 4K surveillance cameras. Among the trailblazers in this field, Techage, a renowned name in security solutions, has embraced this technology to redefine the way we monitor and safeguard our surroundings.
The Evolution of Surveillance Technology: A Leap to 4K
The evolution of surveillance cameras has been nothing short of remarkable. From the days of grainy and indistinct footage, the transition to high definition (HD) brought about a significant improvement in visual clarity. This shift enabled better identification of individuals and events. However, the demand for heightened precision led to the development of 4K surveillance cameras.
4K resolution, boasting an impressive 3840 x 2160 pixels, delivers four times the clarity of traditional 1080p HD resolution. This surge in pixel count means that each frame captured by a 4K security camera is brimming with intricate details. This includes the ability to discern facial features, license plate numbers, and even distant objects with exceptional accuracy. Recognizing the potential of this technology, Techage has positioned itself at the forefront of implementing 4K surveillance solutions.
Techage: Empowering Security with 4K Precision
Techage has carved a niche for itself in the security industry by consistently providing innovative solutions that cater to evolving security needs. By incorporating 4K surveillance cameras into their product lineup, Techage has underscored its commitment to pushing boundaries and defining new industry standards.
Unveiling the Advantages:
1. Unmatched Clarity: Techage's 4K security cameras deliver unparalleled image quality, ensuring that no detail goes unnoticed.
2. Enhanced Analytics: The increased resolution not only aids in identification but also enhances the accuracy of video analytics systems. Motion detection and facial recognition algorithms perform optimally when presented with clear, high-resolution images.
3. Expanded Coverage: 4K cameras are capable of monitoring larger areas without sacrificing image quality, making them well-suited for overseeing extensive properties, parking lots, and public spaces.
4. Future-Proof Investment: With the prevalence of 4K content in mainstream media, opting for 4K security cameras ensures that your surveillance infrastructure remains compatible and up-to-date.
5. Deterrence: The mere presence of a 4K security camera can serve as a powerful deterrent, dissuading potential wrongdoers from engaging in criminal activities.
6. Remote Monitoring: Techage's advanced technology empowers users to remotely monitor their properties in real time via mobile devices, offering 4K clarity even while on the move.
Techage's Dedication to Excellence:
Techage's journey has been characterized by an unwavering commitment to excellence, a commitment that is clearly evident in their 4K security cameras. By harnessing the potential of this cutting-edge technology, the company has elevated surveillance standards, enabling individuals and businesses to proactively safeguard their assets and well-being.
In Conclusion:
In a world where security concerns continue to escalate, the introduction of 4K surveillance cameras showcases the boundless potential of human ingenuity and technological progress. Techage's pivotal role in spearheading this evolution underscores its dedication to empowering individuals and organizations with tools that ensure safety and peace of mind. As we navigate an ever-changing landscape, embracing such innovations becomes not just a choice, but an imperative.