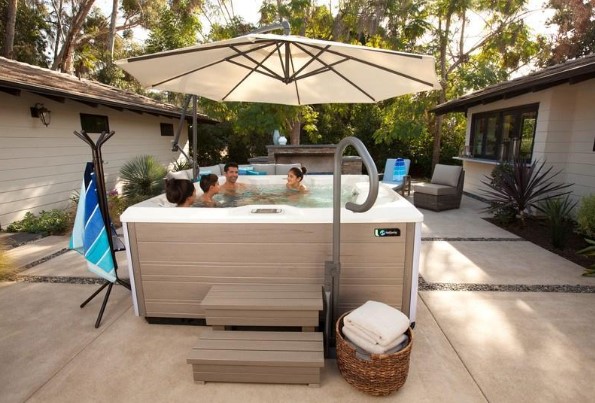 A hot tub also known as Jacuzzi, sauna or spa is a luxury appliance that is used for hydrotherapy. It can be used at home or a dedicated salon or beauty shop or spa. This appliance provides a means of relaxation and pleasure; there are also some that are designed with strong jets that massages the body for treatment of joint pains and other ailments of the muscle.
There are different shapes and sizes of this apparatus which is why it can be used anywhere as far as you have the space to use it. Just like a swimming pool, a hot tub offers many benefits but can also be a harbinger of bacteria and germs if not properly taken care of and maintained. Additionally, your experience with them can be limited if you do not know how to spice things up with accessories.
Some people do not have any idea of how to take care of this appliance or what to use for its care and maintenance. That is why we will list and explain some accessories that are recommended for every person that owns a Jacuzzi. Meanwhile you can visit https://health.clevelandclinic.org/ for more details on the benefits of Jacuzzis.
Cleaning and Maintenance Tools
Like we mentioned above, cleaning and maintaining your hot tub will keep bacteria and germs away and make the spa a safe zone for users. There are many accessories that can help in this regard, and they include the following:
Skimmer Net– This is useful for removing insect, debris, and other unwanted elements in the water. Its regular use will ensure that your water is always clear and clean.
Hot Tub Vacuum– This is used to clean the bottom and sides of the tub. this vacuum sucks up any little debris that may stick to the sides, bottom, or any surface in the tub.
Brushes– Comes in handy for scrubbing the interior surface of the spa to prevent the build-up of dirt and algae.
Water- Testing Kit– This kit is very important for keeping track of the chemical balance of the water in the tub. It usually contains liquid reagents and test strips for checking the sanitizer level, pH levels, calcium hardness and alkalinity.
Scum Absorbing Sponge– This sponge absorbs and removes residues from users that accumulate on the surface of the water to prevent scum lines. These residues include body lotions and oils.
Filter Cartridges– Hot tubs come with filters that ensure the water is clean and circulates well. The cartridges of this filter can get worn or clogged with time. Therefore, they need to be checked from time to time and changed when necessary.
Hot Tub Cover– This accessory is necessary to insulation and containing he heat in the tub thereby saving the cost of pre-heating your spa when you want to use it. It also keeps away debris and other unwanted elements from the spa.
Thermometer– spa thermometers can be employed to monitor the water temperature of the spa pool, which is typically between 30°C and 40°C. Aerated water combined with high water temperatures can lead to an increase in the growth of microorganisms, thus increasing the risk of infection. Additionally, high water temperatures can put a strain on the spa pool's disinfection and filter systems.
The above are the essential accessories that you need for your spa. You could type 'hot tub accessories near me' on your search engine. The result will give you a full list of accessories which will contain things that are not on this list.
Hot Tub Chemicals and Products
Apart from the accessories that we have listed below, you need some chemicals to ensure that your hot tub is properly sanitized and bacteria free. These chemicals include the following:
pH Increaser and pH Reducer
Filter Cleaner
Sanitizing Chemicals
Shock Treatment
Algaecide
Cover Cleaner and Protectant
Note that when you buy a spa, it comes with an owner's manual and in this manual, you will find instructions on how to use all the above chemicals and products that I have stated. If your manual does not have detailed instructions, you can go online to get more information.
Add-ons for Elevated Spa Experience
There are accessories that are not essential, but they can go a long way to elevate your experience anytime you use your hot tub. We will just give you a brief list of these accessories below:
Spa steps
Spa caddy or side trays
Cover lifter
Water-proof speakers
Aromatherapy dispensers and scents
Floating drink holders
Towel warmers
Hot tub umbrellas
Outdoor privacy screen
Inflatable spa pillows
These accessories are ones that you can do without but there are accessories that enhance the safety of the tub which we have not mentioned. You can visit this page for health and safety tips.
Conclusion
The experience you have in a spa is dependent on a number of things and one of them is the accessories that you have/use. In this article we have listed many accessories and products in various categories. While you can use your Jacuzzi without some of them, a good number of them will surely elevate your hydrotherapy experience so why not check them out today!