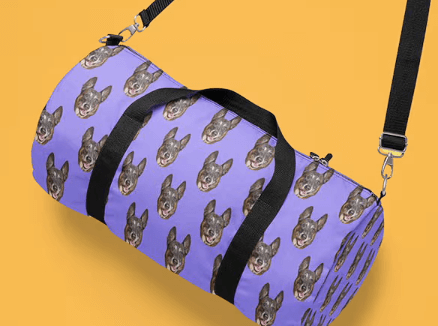 As a species, humans love to carry around a lot of stuff. Whether it's sports equipment, tech devices, books, school/work essentials, snacks, drinks, or a laundry list of "just in case" items, one thing is certain: You're going to need a bigger bag. There's no better way to lug around all your stuff in style than with Persunly custom duffle bags. Custom duffle bags let you add your own personalized flair and all the pockets, compartments, carrying straps, and handles you need to transport your cargo in a way that's truly you.
With so many customization options for personalized duffle bags out there, a great place to start is with the different types of custom duffle bags available.
Types of Custom Duffle Bags
The first step to designing your own custom duffle bags is considering the general type of bag that will best suit your carrying needs. Persunly offers four general styles:
Small duffle bag
Large duffle bag
Zippered tote bag
You'll find that each one of these styles is best suited for different uses. The small duffle bag works well for sports, school, work, and weekend travel. The large duffle bag is ideal for all sports (it fits 2 full-size basketballs inside) with large gear, longer travel, and events that require you to carry a large load (like Christmas or a birthday party). The zippered tote bag has a smaller footprint and is perfect for day-to-day use. It's roomy enough to fit a tablet or small laptop, phone, books, snacks, bottled water/drinks, chargers, and more. Let's take a closer look at each one of these bag-style options so you can find the right one for you.
Small Duffle Bag
Persunly custom duffle bags come in a small barrel size (18″x10″x10″) that's handy for sports equipment and gear, short travel, or general purposes. Made with ultra-durable 600D polyester, this small but mighty duffle can be customized from top to bottom.
Each small duffle comes with a removable, adjustable shoulder strap and webbed handles for convenient carrying. The entire length of the bag is zippered, so you can open it wide to load or unpack it. A side zippered pocket makes it easy to stow small items. Extra-luxe details, like hardware that is color-matched to the fabric and professional personalization options, make this duffle a great choice if you've got things to carry but don't need a ton of room. Available in a range of colors from ombre tones and classic neutrals to bright, abstract colors, you can add up to 15 letters in 11 different fonts and 24 font colors to truly make it your own.
Large Duffle Bag
The custom large duffle bag by Persunly is the best option if you have a larger load to carry or bulky equipment, gear, or items to lug around. It comes with a square bottom, a zippered front pocket, and a detachable, adjustable shoulder strap. The large duffle bag size can fit 2 full-size basketballs inside with room to spare! Ideal for sports and travel, this sturdy 600D polyester canvas bag also features webbed handles for easy carrying. The bag measures 24″x12″x11″ with a full-length zipper running across the top so you can open it wide to pack and unload it. The same special touches, like color-matched hardware that blends in with the fabric color, make this an appealing choice.
Available in up to 12 colors (including bright and muted tones) with extended personalization options, this bag can be customized to fit you perfectly. Add 1-3 lines of personalized text (up to 10 characters per line), choose from up to 24 font colors, and pick out one of 11 different fonts to showcase your personality with a custom large duffle bag.
Zippered Tote Bag
Custom zippered tote bags are a sturdy, 600D polyester bag option with a smaller footprint and webbed carrying handles that keep all your goods securely stowed in style.
These zip-top bags feature a full-length zipper along the top of the bag (16″x18″ measurement) and a flat, gusset bottom that helps the tote stand up on its own.
Made from 50% recycled material, you can feel good about the minimal impact this tote has on the environment. Customize it to inject your personal sense of style!
Choose from up to 15 bag colors, add up to 12 characters of text to your zippered tote, and pick your favorite of up to 11 fonts to customize it to your liking.
Custom Duffle Bag Themes
From athletics and hip-hop to patriotic and seasonal themes, creating your own custom duffle bags is a lot of fun when you have tons of options at your fingertips.
Animals, sports, music, seasonal, holidays, hobbies, and more are available options for themed Persunly custom duffle bags.
Athletics
Sports and athletics are one of the most popular reasons to get custom duffle bags. You'll be able to differentiate your bag from your teammates' easily and proudly represent your sport and team! Some of the sports and athletic programs you can choose from when creating Persunly custom duffle bags include:
Ballet
Baseball
Basketball
Cheerleading
Coaching
Dance
Football
Golf
Gymnastics
Hockey
Lacrosse
Martial arts
Pickleball
Soccer
Softball
Swim
Volleyball
Seasonal, Special Occasions, and Holidays
Custom seasonal and special occasion duffle and tote bags are perfect for weekend trips, special occasions, and seasonal or holiday use during your favorite times of the year! You'll be able to choose from themes like:
Fall/autumn
Father's Day
Graduation
Mother's Day
Summer
Winter
Travel and Adventure
Travel and adventure themes are great choices for custom duffle bags from Persunly. There are lots of options to choose from, including:
Adventure
Animals (dragons, sharks, etc.)
Basic duffels and totes for travel
Camping
Climbing/mountaineering
Ready to Create Your Own Custom Duffle Bags?
Now that you've seen the wide range of options available to create your own custom duffle bags with Persunly, you're ready to move on to the fun part — actually building your bag! Persunly custom duffle bags are sturdy, made with 50% recycled material, offer multiple ways to carry, roomy compartments, zippers for secure closure, and endless personalization options.
You'll find plenty of options to choose from for the base of your Persunly custom duffle bags. Whether you like a basic color scheme or something with more pizzazz, there's something here for you. Pick the size and style that suits your needs, select a theme you like, and customize the bag with your chosen colors, fonts, and text to really make it feel like you. Click here to learn more about creating a custom duffle bag with Persunly.