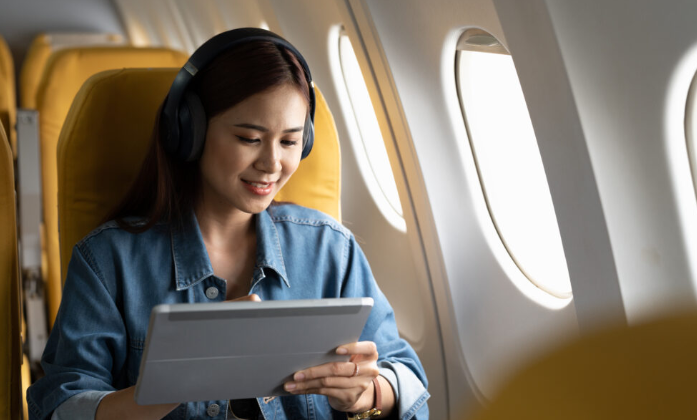 Going abroad can be an exhilarating experience, but it can also be challenging to stay updated with your favorite TV shows and movies while on the go. Luckily, with the rise of streaming platforms, you can now watch every content anywhere worldwide, as long as you can access the internet.
If you're looking for streaming sites that will accompany you on your next trip, you're at the right spot because we'll look at some of the best streaming sites for your next trip abroad, so you can stay entertained no matter where your travels take you.
Netflix
Netflix is certainly the most well-known streaming service out there, with a massive library capacity of TV shows, movies, and documentaries worldwide. Whether you're in the spirit of a classic Hollywood blockbuster, a foreign-language indie movie, or binge-watch the latest TV shows, you're sure to find something to suit your tastes on Netflix. With a subscription, you can also download content to watch offline, which is perfect for prolonged flights or train rides.
Hulu
Hulu is another popular streaming platform, particularly for those who love TV series. It has a vast collection of current and classic TV series from major networks and a growing selection of original content. One of the notable features of Hulu is that it offers a live TV option, which allows you to watch live sports, news, and other events as they happen. Like Netflix, you can also download content to watch without internet access.
Hulu is also only accessible in the US and its territories. Hence, people outside the USA, like the Philippines, use VPNs or proxies to reroute with an American IP to avoid geo-restrictions. So, Hulu in Philippines is still accessible if you use a VPN.
Amazon Prime Video
Amazon Prime Video is a relatively new player in the streaming game. Still, it's quickly gaining popularity thanks to its outstanding library of movies and TV shows, including exclusive content you won't find anywhere else. One of the standout features of Amazon Prime Video is its ability to rent or buy particular movies and TV episodes, which is convenient if you're traveling and don't want to dedicate yourself to a full subscription. Like Netflix and Hulu, you can also download content on the go.
Disney+
If you fancy Disney movies and TV shows, then Disney+ is the streaming site for you. It has an extensive collection of classic and modern Disney content, Star Wars, Marvel films, and TV shows. Disney+ also offers exclusive shows, including new movies and TV series, and you can download them to stream offline.
HBO Max
HBO Max is the most recent streaming service on this list. Still, it's already making waves thanks to its remarkable library of HBO content, including sensational shows like Game of Thrones, The Sopranos, and Sex and the City. In addition to HBO content, HBO Max also has a growing section of movies and TV shows from other networks and original content. Like the other streaming services on this list, you can download content to watch offline – because this is the bare minimum these days!
YouTube
While it's not a traditional streaming service, YouTube is still an excellent option for watching videos while traveling. You can find everything from movie trailers and music videos to vlogs and travel guides on the platform, and it's all free. You can also download videos to watch offline, so you don't lose any video to the internet.
Crunchyroll
If you're an anime fan, then Crunchyroll is the streaming site for you. It has a huge collection of anime series and movies, both recent and old, from Japan and other countries. Crunchyroll also presents simulcasts, which means you can stream new episodes of currently airing anime series as released in Japan. You can download shows to watch offline with a subscription.
BBC iPlayer
If you're traveling to the UK, BBC iPlayer is a prominent option for catching up on British TV shows and movies. From classic shows like Doctor Who and Sherlock to new sensations like Killing Eve and Line of Duty, iPlayer holds it all. The forum also features many documentaries, films, and children's programming. One of the most pleasing things about BBC iPlayer is that it's free for UK residents, making it an ideal choice for those on a tight budget.
Apple TV+
Apple TV+ is the latest streaming service that offers a variety of original content, including hit shows like "The Morning Show" and "Ted Lasso." While the content library is still relatively small compared to other streaming services, Apple TV+ is an excellent option for high-quality streaming. Plus, with the ability to download content for offline watching, you can enjoy all your shows and movies even while voyaging abroad.
Peacock
Launched in 2020, Peacock is NBC's streaming service rapidly gaining popularity in the US. With its expansive library of classic and recent television shows, including The Office and Saturday Night Live, Peacock is a must-have for any comedy lover. Peacock also presents live sports coverage, including Premier League soccer and the Olympics. For those who choose movies, Peacock has a rotating selection of free titles to stream, and for those who want even more options, Peacock Premium provides access to even more content.
Crackle
While it may not be as prominent as the other two services, Crackle has been around since 2004 and offers an impressive content selection. Owned by Sony Pictures, Crackle is a mix of movies and television shows you won't find on other platforms. From cult classics like Snatch and Lock, Stock, and Two Smoking Barrels to original shows like StartUp and The Oath, Crackle has something for everyone. Crackle is completely free, so there's no need to worry about subscription fees.
To Wrap it Up
No matter where your next voyage takes you, these streaming sites will keep you amused during those long flights, train rides, or sluggish days in your hotel room. No more will you require the time to search and see which streaming site you need because we hope this article has provided sufficient knowledge. So sit back, relax, and enjoy great content.