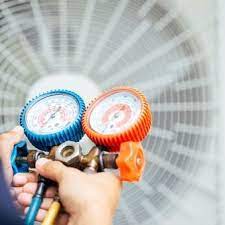 As summer arrives, your air conditioning system becomes an indispensable component of your daily life. A well running air conditioner not only makes your home comfortable, but it also preserves interior air quality. However, air conditioners, like any other mechanical equipment, are subject to wear and tear and, on occasion, malfunction. When this occurs, it is critical to understand when to contact a professional for AC repairs. Ignoring warning indications can result in costly repairs or perhaps a total replacement. In this blog post, we'll look at some of the most typical warning signals that it's time to call in professional AC repair services.
1. Warm or Weak Airflow
Weak or warm airflow from the vents is one of the most visible indicators of a probable AC malfunction. When your air conditioner is working properly, it should consistently blow cool air. If you observe a decrease in airflow or heated air coming from your vents, it could be due to a clogged filter, a faulty compressor, or a refrigerant leak. A professional should solve these concerns as soon as possible to ensure that your AC runs efficiently.
2. Unusual Sounds
Your air conditioner should operate silently in the background, delivering comfort while causing no disruptions. If you start hearing strange noises coming from your AC unit, such as rattling, clanking, screeching, or pounding, it's a sure sign that something is wrong. These noises could be caused by loose parts, a damaged fan blade, or a faulty motor. Ignoring these sounds could result in more serious damage and a larger repair price later on.
3. Cycling Frequently
AC units are programmed to cycle on and off at regular intervals to maintain the optimum temperature in your house. However, if you see your air conditioner cycling on and off too frequently or for long periods of time, this is a symptom of an underlying problem. Short cycling can be caused by a number of issues, including a faulty thermostat, low refrigerant levels, or an oversized AC unit. Professional evaluation is essential for determining the root cause and preventing future damage.
4. High Levels of Humidity
Air conditioners help to dehumidify the indoor air as well as cool it. If your home feels extremely humid despite your AC running, it's a clue that your AC isn't working properly. High humidity levels in your house can cause discomfort and even mold growth. A specialist can diagnose and repair the problem, restoring pleasant and healthy interior conditions.
5. Noxious Odors
An air conditioner that is working properly should not emit any unwanted odors. If you notice musty, moldy, or nasty odors while your air conditioner is operating, it's a sign that mold or mildew is growing within it. A clogged drain line or filthy evaporator coils can also generate these scents. It is critical to treat this problem as soon as possible, not only for your comfort but also for the benefit of your indoor air quality.
6. Increasing Energy Costs
Have your energy expenses suddenly increased despite constant usage patterns? An inefficient air conditioner can contribute significantly to increased energy expenses. When your air conditioner is having difficulty cooling your home due to a malfunction or a lack of maintenance, it has to work harder and waste more energy. In the long run, hiring NexGen heating services to check and repair your air conditioner will help you save money on your energy expenses.
7. Water Spills
Water gathering around your AC unit or dripping from the vents is a symptom of a potential problem. A clogged condensate drain line, a refrigerant leak, or a frozen evaporator coil could all be to blame. Water leaks not only indicate an issue with your air conditioner, but they can also cause water damage to your property. It is critical to have a professional diagnose and repair the problem to avoid further damage and mold growth.
8. Unreliable Cooling
Inconsistent cooling is another symptom that your air conditioner may need to be serviced. If some rooms in your house are much warmer than others, this could suggest a problem with cool air distribution. This can be caused by ductwork issues, a faulty thermostat, or problems with the AC unit itself. A expert can examine the condition and make the required adjustments to ensure that your home is evenly cooled.
9. Formation of Ice
If you observe ice developing on your AC unit, especially on the evaporator coils or refrigerant lines, you have a problem. Low refrigerant levels, restricted ventilation, or a faulty blower fan can all contribute to ice development. Ignoring ice buildup might result in additional damage to your AC system and decreased efficiency.
10. The AC Unit's Age
The age of your unit is sometimes enough of a warning indication to seek a professional for AC repairs. The average air conditioner has a lifespan of about 10-15 years. If your air conditioner is approaching or has passed this age range, it is more likely to have frequent breakdowns and lower efficiency. A competent technician can determine if it is worthwhile to fix an older unit or whether it is time to consider a replacement, check here to learn about the air conditioner replacement price.
Conclusion
During the hot summer months, your air conditioning system is critical to keeping your home pleasant. Recognizing the warning signals of AC problems and knowing when to call a professional for repairs is critical to ensuring your unit's longevity and efficiency. While some small difficulties can be handled through routine maintenance, more serious concerns necessitate the knowledge of a skilled specialist. Regular maintenance and prompt repairs will help your AC system last longer, save energy, and provide constant comfort in your house. When in doubt, it is always preferable to seek professional AC repair services to solve issues before they develop and become more expensive to repair.