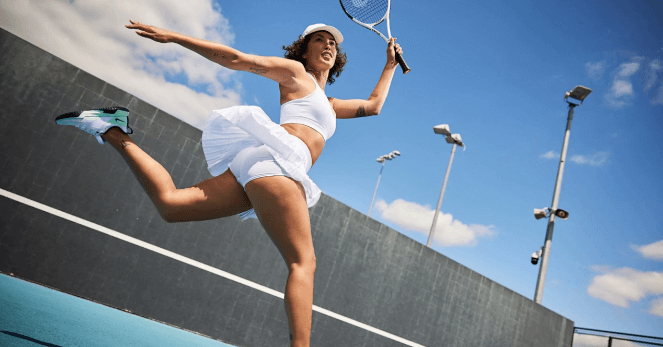 Professional female sports figures have been wearing tennis skirts for many years. They have become so popular for those playing racquet sports that the popular skirts have become known as tennis skirts.
The History of Tennis Skirts:
It is hard to believe, but in the late 19th century, women tennis players had to adapt to the norm at that time, which were long flowing dresses made from heavy materials. Often, wool, flannel, cotton, and other durable fabrics were used, but they were uncomfortable and restricted the movements of the players.
By the 1900s, shorter skirts were becoming more popular for women playing sports. These new tennis skirts were far more comfortable than traditional garb. Lighter fabrics like linen and light cotton were being used to make these popular new skirts.
One of the first female tennis players to wear a tennis skirt was Suzanne Lenglen. She was known to be a trendsetter and often wore the latest fashions while on the court. She wore the first tennis skirt on the court in 1919.
It isn't what we imagine today, as the skirts were longer, down to the mid-calf. She paired this with a sleeveless blouse. This was considered a scandal, dressing so daringly on the tennis court. While she was considered a fashion-forward dresser, little did she know that she was starting a fashion trend that continues to evolve to this day.
Suzanne Lenglen wouldn't recognize tennis skirts today. They have gotten shorter and shorter, and most are made with shorts or leggings to make sure they are more modest for those playing sports. They are made today using the most lightweight fabrics available that make it easy for players to run and jump and offer the maximum range of motion.
Today, tennis skirts are not just fashionable; they are practical. There are an endless array of styles, patterns, and colors. Even designers are making a splash for their tennis wear. Even some award-winning tennis players have started creating their own tennis fashions. Serena Williams designs and manufactures a line of fashions, including some of the most in-demand athletic styles around.
Tennis Skirts Are Not Just for Tennis
Tennis wear has come a long way. Many people wear tennis skirts in their daily activities because of the comfort they offer and the fact most have attached shorts, which are called skorts, or attached to leggings. So, they are more comfortable than skirts without the undergarments attached.
Tennis skirts and skorts are often worn in place of shorts for a more dressed-up look. They are a versatile part of a wardrobe that looks good on just about any type of figure. And, if you get the sudden urge to play a game of tennis or golf, you are ready to go and start your match.
Designers Enter the Frey
Fashion designers are always looking for the next trend, and many designers and athletic equipment manufacturers are now creating tennis clothes for active women. Tennis skirts for women are widely available in high-end stores and discount stores alike. Some of the widely available designer skirts include:
Lacoste
L'Etoile Sport + Veronica Beard
Tory Sport
Eleven by Venus Williams
Adidas Originals
Gucci
Casablanca
Balenciaga
Nike
Wilson
Alo Yoga
Lululemon
Aerie
The Upside
With the wide range of fashion designers now manufacturing tennis clothing, there is a wider range of choices to meet every need and any athletic activity.
What to Consider When Choosing a Tennis Skirt
Whether you are playing golf, pickleball, tennis, or any other sport, women want to look good and stay cool while they are playing. If you are going to purchase a new skort or tennis skirt, there are a few things to consider in your hunt for the perfect tennis outfit.
Look for breathable fabrics made with stretchy, comfy materials. Polyesters and spandex blends are comfortable and are not restrictive while playing sports.
Tennis skirts that are manufactured using anti-odor, quick-drying materials. This will help you feel confident and secure on and off the court.
Make sure the skirt has plenty of room with a comfortable waistband. Look for skirts that aren't too short, so you don't have to worry about showing too much skin during the game.
Wear an equally comfortable shirt or tee shirt. Just like tennis skirts, they should be created with a lightweight fabric that doesn't impair movement.
Ventilation and breathable materials are the best choice for clothing for just about any sport.
How to Accessorize Your Tennis Skirt
As tennis skirts have grown in popularity, many people are wearing them for casual outings, whether or not they include a game on the court.
If you opt to wear a tennis skirt, here are some fun ideas you may want to try:
Spice up your tennis skirt with a graphic tee. You can achieve a great casual look that isn't too sporty by wearing a casual t-shirt along with snazzy sneakers. The choice of T-shirts is endless. You can choose a vintage look, a bold black t-shirt, or one with your favorite band's name or logo. They will all work well with your favorite tennis skirt.
Add some darker colors to your ensemble. While many people consider light colors the proper uniform for tennis, more and more players are choosing more colorful options. If you are wearing a tennis skirt and looking for a more upscale option, choose a navy or black color skirt or top. If you add a nice handbag and loafers, you have a versatile outfit that is fit for a night off.
It looks like you just left the Country Club. Another versatile way to wear your tennis skirt is to pair it with a collared polo shirt or a knock-out sweater. Both tops pair well with the versatile tennis skirt. This look can take you from the court to an upscale luncheon in the same outfit.
Goes with the Wimbledon rules. Years ago, the only color that was acceptable for many tennis clubs was pure white. This is still the rule for Wimbledon tennis players. There is something very crisp about a pure white tennis skirt with a breathable tennis blouse. You will look like you just got off the court.
No matter how you accessorize a tennis skirt, there is no doubt they are a very important part of just about any wardrobe, whether you're a tennis player or not. Sol Sister Sport has the trendiest and cutest tennis skirts for women.