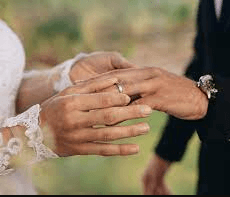 When it comes to wedding preparations, the focus often lands on the bride's attire and accessories. However, grooms increasingly seek ways to express their style and commitment through wedding bands. The traditional plain gold band is no longer the only option for men. Unique and distinct designs are gaining popularity. If you're a groom-to-be looking for a wedding band that stands out, here are unique mens wedding bands to consider:
Wood Inlay Bands
Wood inlay wedding bands offer a perfect blend of nature and craftsmanship. These bands combine traditional metals like tungsten or titanium with a strip of wood inlay. The wood adds an earthy touch and symbolizes growth and resilience, making it an ideal representation of your relationship's journey.
Carbon Fiber Bands
Carbon fiber bands are an excellent choice for grooms who appreciate modern aesthetics. Known for their strength and lightweight properties, carbon fiber rings are often combined with metals like titanium or black zirconium. These bands reflect a contemporary and industrial vibe, perfect for tech-savvy couples.
Elysium wooden ring
The ring showcases a captivating pattern created by infusing genuine wood grain into the material. The Elysium wooden ring is a work of art with its organic beauty and timeless elegance.
What sets this ring apart is not only its unique design but also its remarkable durability. The innovative manufacturing process of the Elysium wooden ring ensures that it is virtually unbreakable, unlike traditional wooden rings that are susceptible to damage over time. This makes it a perfect choice for those who want to embrace their love for nature without compromising quality or longevity.
As you slide the Elysium wooden ring onto your finger, you'll be reminded of the beauty and resilience found in nature itself. Each grain captured within the black ceramic tells a story connecting you with the earth's ancient wisdom and grounding your spirit in a chaotic world. Whether as an engagement band or a statement accessory, the Elysium wooden ring effortlessly encapsulates style, sustainability, and significance all in one stunning piece of jewelry.
Damascus wooden ring
The process starts with hand-selecting the finest wood, which is then meticulously shaped and polished to create a smooth and comfortable fit. What sets these rings apart is the unique technique used to create their stunning designs. Inspired by ancient Damascus steel, each ring undergoes layering of different wood types and forging together at high temperatures. This fusion creates mesmerizing patterns reminiscent of flowing water or swirling galaxies. No two Damascus wooden rings are alike, making each piece an exclusive work of art.
Not only do these rings captivate with their exquisite beauty, but they also hold deep symbolism. Wood has long been associated with strength, resilience, and growth. Wearing a Damascus wooden ring can remind one of one's journey and ability to overcome obstacles in life. Furthermore, choosing a sustainable alternative like wood over metal makes a fashion statement. It reflects an individual's commitment to environmental consciousness.
Conclusion
The world of men's wedding bands has evolved significantly, offering an array of unique choices beyond the traditional plain gold band. These distinct designs allow grooms to express their style and interests and bond with their partners. Whether you're drawn to natural elements, modern aesthetics, or personalized touches, a unique wedding band is waiting to adorn your finger and symbolize your enduring love.