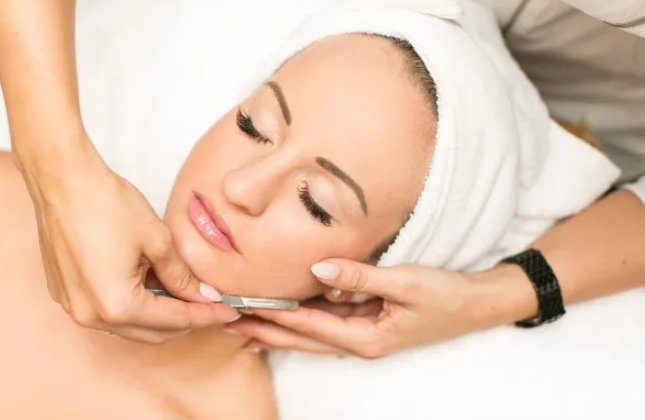 Dermaplaning is a popular skincare treatment that involves the gentle scraping of the skin's surface to remove dead cells, peach fuzz, and impurities. This procedure has gained traction in recent years due to its immediate results and compatibility with various skin types. This article will explore the role of dermaplaning in your skincare routine, its benefits, risks, and more.
What is Dermaplaning?
Overview
Dermaplaning is a non-invasive, exfoliating procedure performed by a licensed esthetician using a specialized, sterile blade.
How it Works
The process involves gently scraping the skin's surface to remove the outermost layers of dead skin cells and vellus hair (peach fuzz).
Benefits
Smoother Skin: Immediate smoother and brighter complexion.
Enhanced Product Absorption: Allows for better penetration of skincare products.
No Downtime: Quick procedure with minimal recovery time.
Risks and Precautions
Potential minor irritation or redness.
Avoid if you have inflamed acne or other skin sensitivities.
How Dermaplaning Fits Into Your Skincare Routine
Before the Procedure
Proper consultation with a licensed professional to understand your skin type and needs is crucial.
During the Procedure
A relaxing experience, the treatment generally takes 20-30 minutes.
After the Procedure
Following proper post-care instructions ensures optimal results.
Frequency
Dermaplaning is generally performed every 3-4 weeks, depending on individual skin needs.
Benefits of Dermaplaning
Immediate Results
Experience immediate improvement in skin texture and tone.
Compatibility
Suitable for almost all skin types and tones.
Makeup Application
Allows for smoother makeup application by creating a flawless canvas.
Anti-Aging Benefits
Regular treatments can aid in reducing fine lines and wrinkles.
Complementary Treatments
Chemical Peels
Dermaplaning enhances the effects of chemical peels by allowing deeper penetration.
Facials
Combining dermaplaning with customized facials can further enhance skin rejuvenation.
Microneedling
Dermaplaning before microneedling procedures can help in achieving better results.
Myths and Misconceptions
Hair Growth
Dermaplaning does not cause hair to grow back thicker or darker.
Painful Process
Performed by professionals, dermaplaning is usually painless and gentle.
Conclusion
Dermaplaning is more than just a trend; it's a strategic element in a comprehensive skincare routine. Its ability to provide immediate results with minimal risks makes it a sought-after treatment for individuals looking to enhance their complexion.
Whether you're looking to achieve a radiant glow, improve product absorption, or prepare your skin for further treatments, dermaplaning offers a versatile solution. With professional guidance and proper care, it can be an integral part of your beauty regimen, helping you maintain healthy, beautiful skin.