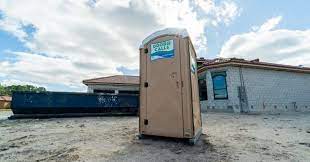 Completing a construction project, whether it's a house remodel, a commercial build-out, or a large-scale construction project, is a huge accomplishment. However, once the construction process is complete, there is frequently one crucial chore that must not be overlooked: post-construction cleanup. Without a solid plan in place, the accumulation of construction trash, materials, and waste can be daunting. This is where dumpster rentals come in, providing a slew of advantages for speedy and well-organized post-construction cleanup. In this blog, we'll look at the benefits of using dumpster rentals for post-construction cleanup and briefly address professional services that can help when needed.
The Post-Construction Cleanup Challenge
Construction projects of all sizes generate a significant amount of waste and garbage. This can include wood, drywall, concrete, insulation, packing materials, and other materials. Without a well-structured waste management and cleanup plan, the aftermath of construction can be chaotic.
Following are some of the difficulties involved with post-construction cleanup:
1. Safety Concerns: Debris and waste materials piles can cause tripping hazards and constitute a safety risk to workers and anybody visiting the site.
2. Time-Consuming: Manual debris removal can be time-consuming and labor-intensive, potentially delaying project completion or incurring extra costs.
3. Space Constraints: Accumulated debris on the construction site can take up valuable space, making it difficult to access other areas for finishing touches or landscaping.
4. Environmental Responsibility: Proper construction waste disposal, including recycling and hazardous material handling, is critical to reducing environmental effect.
5. Cost Considerations: Multiple journeys to garbage disposal facilities might result in transportation and disposal fees, which can impact the project's budget.
Dumpster Rentals: A Post-Construction Cleanup Alternative
For quick and systematic post-construction cleanup, dumpster rentals provide various advantages:
1. Waste Management: Dumpsters provide a centralized site for waste disposal, preventing debris spread and ensuring waste is contained.
2. Increased Safety: A clean and well-organized workplace decreases the chance of accidents and injuries caused by tripping hazards or congested areas.
3. Time Saving: Workers may swiftly dispose of garbage and items in the dumpster, avoiding time-consuming manual cleanup.
4. Space Optimization: By concentrating waste in a dumpster, you free up important building site space, making it easier to access other places.
5. Cost-Effective: Renting a dumpster is generally less expensive than making repeated journeys to landfill sites, especially when transportation costs are considered.
6. Environmental Responsibility: Many dumpster rental firms place a premium on appropriate trash management, which includes recycling and the correct disposal of hazardous materials.
Choosing the Appropriate Dumpster Size
The correct container size is critical for maximizing the benefits of serving Simpsonville for dumpster rental services for post-construction cleanup. The size should be appropriate for the scale of the construction project as well as the volume of waste created. A dumpster that is too tiny may require frequent emptying, while a dumpster that is too huge may take up excessive room on the job site. Consult your dumpster rental company to establish the optimum size for your unique requirements.
Specialized Cleaning Services Provided by Professionals
While dumpster rentals are enough for most post-construction cleanup activities, there may be times when professional cleanup services are required. These services might provide specialized skills and equipment for dealing with specific waste streams or meeting certain project requirements.
Professional cleanup services can help with:
1. Hazardous Materials: If your building project included hazardous materials such as asbestos, lead-based paint, or chemicals, expert cleanup services can guarantee that they are safely removed and disposed of in accordance with standards.
2. Recycling Programs: Some professional waste management businesses specialize in recycling services, assisting you in diverting materials from landfills such as concrete, wood, and metals.
3. Bulk Item Removal: When you need to get rid of huge, bulky objects like old appliances, furniture, or fixtures, professional services can help.
4. Large-Scale Cleanup: Professional cleanup teams may provide the manpower and equipment required for a complete and quick procedure for extensive post-construction cleanup or circumstances where significant material needs to be collected.
Final Thoughts on Streamlining Post-Construction Cleanup
Completing a building project is a great accomplishment, but it's critical to make the post-construction cleanup procedure as efficient and structured as possible. Dumpster rentals are a significant tool for speeding this cleanup phase since they provide consolidated garbage management, increased safety, time efficiency, and cost-effectiveness, learn more here.
Professional cleaning services may be required to ensure compliance with rules and safety requirements in instances involving hazardous materials, large-scale cleanup, or specific knowledge. You may achieve a comprehensive and effective post-construction cleanup by combining the ease of dumpster rentals with the experience of professional services when needed, ensuring that your project closes on a high note and your site is ready for its intended purpose.