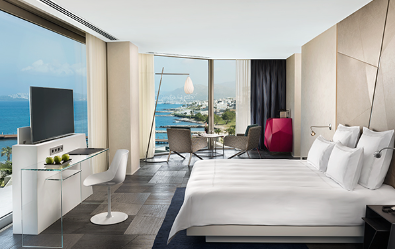 When it comes to creating a memorable and luxurious experience at a resort, every detail matters. Every element contributes to the overall ambiance, from stunning views to impeccable service. One often overlooked aspect is the furniture and interior design. Custom design services can elevate your resort furniture to new heights, providing comfort and a unique and inviting atmosphere that will leave a grand impression on your guests.
Tailored to Fit Your Brand
Resorts come in all shapes and sizes, each with its own unique identity and brand. Generic, off-the-shelf furniture may not capture the essence of your resort. This is where custom design services shine. They allow you to work closely with designers to create furniture that aligns perfectly with your brand. Whether your resort is rustic and cosy or modern and sleek, custom-designed furniture can be tailored to fit your vision, ensuring a seamless and cohesive guest experience.
Enhancing Guest Comfort
The comfort of your guests should always be a top priority. After all, a relaxed and content guest is more likely to return and recommend your resort to others. Custom-designed resort furniture takes guest comfort to the next level. Designers can consider the ergonomics, materials, and aesthetics to create furniture that not only looks inviting but also feels comfortable. From plush sofas and chairs to cosy beds and loungers, custom-designed pieces can transform your resort into a haven of relaxation.
Maximising Space Efficiency
Resort spaces often vary in size, and making the most of the available space is essential. Off-the-shelf furniture may only sometimes fit perfectly into your resort's layout. On the other hand, custom design services allow for furniture tailored to your resort's specific dimensions and layout. This not only ensures a more efficient use of space but also creates a sense of harmony and flow in your interiors. Guests will appreciate the thoughtful design that maximises space without feeling cramped.
Showcasing Unique Features
Many resorts have unique features like breathtaking views, lush gardens, or historic architecture. Custom-designed furniture can complement and showcase these unique elements. Imagine a set of custom-made outdoor lounge chairs perfectly designed to capture the stunning sunset views from your resort's terrace. Such pieces not only enhance the guest experience but also serve as Instagram-worthy spots, enticing guests to share their experiences on social media, thus promoting your resort organically.
Durability and Sustainability
Resorts face a high level of wear and tear, given the constant flow of guests and various activities taking place. Custom-designed furniture allows you to select materials that are not only durable but also sustainable. Designers can help you choose eco-friendly options that align with your resort's commitment to environmental responsibility. Investing in furniture that lasts reduces long-term costs and demonstrates your commitment to sustainable practices, appealing to eco-conscious travellers.
Conclusion
In the competitive world of resorts, every advantage counts. Custom design services can provide the perfect resort furniture, which can be a sure game-changer. They offer the flexibility to tailor your interior spaces to your brand, enhance guest comfort, maximise space efficiency, showcase unique features, and prioritise durability and sustainability. These benefits elevate the overall guest experience and contribute to your resort's reputation and success.
Remember, a well-designed resort is not just a place to stay; it's an experience in itself. By investing in custom-designed furniture, you're not just furnishing rooms; you're creating memories and impressions that will keep guests returning for years. So, whether you're revamping an existing resort or starting a new one, consider the transformative power of custom design services to elevate your resort to new heights of luxury and distinction. Your guests will thank you, and your business will thrive.