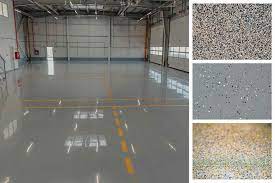 First impressions are extremely important in business. As a business owner or manager, you're always searching for methods to improve the functionality and aesthetic of your commercial spaces in order to provide a welcoming and professional environment for customers, clients, and workers. Flooring is an often-overlooked part of commercial property maintenance, and epoxy coating has emerged as a game-changer in this field. It not only adds a sleek and modern style, but it also has a plethora of functional benefits. In this blog post, we'll look at how epoxy coating can improve commercial spaces and contribute to corporate success, as well as briefly address the benefits of professional coating services.
The Importance of Commercial Space Presentation
Your commercial space is the actual manifestation of your company. It is the interface via which your consumers, clients, and workers connect with your brand and products or services. As a result, its appearance is critical in producing lasting impressions and shaping the perception of your company. Here are some of the most important reasons why the appearance of your commercial space is critical:
1. Curb Appeal: A well-kept and visually appealing commercial location can draw foot traffic and clients to your business.
2. Brand Image: Your space's aesthetics send a message about your brand. A clean, modern, and appealing environment can convey professionalism and attention to detail.
3. Employee Morale: A aesthetically appealing work environment can increase employee morale and productivity. It fosters an environment in which employees are proud to work and clients or customers are welcomed.
4. Customer Experience: The look of your place can have an impact on the overall customer experience. A well-designed and appealing environment can make clients feel at ease and more willing to interact with your company.
Epoxy Coating: A Game-Changing Solution
Epoxy painting is becoming increasingly popular as a transforming solution for business environments. It is a versatile and long-lasting flooring solution with various advantages:
1. Durability: Epoxy coatings are extremely resistant to wear and strain. They can resist strong foot traffic, the weight of equipment, and vehicle movement without being damaged.
2. Chemical Resistance: Epoxy is resistant to a wide range of chemicals, making it excellent for spill-prone establishments such as restaurants, automotive shops, and laboratories.
3. Maintenance Ease: Epoxy-coated floors are simple to clean and maintain. Spills, stains, and dirt may be wiped away easily, minimizing the time and effort necessary for maintenance.
4. Versatility: Epoxy coatings are available in a variety of colors and finishes, allowing for personalization to match the look of your business. You can select from matte, satin, or high-gloss finishes.
5. Safety: Some epoxy coatings can be customized with anti-slip additives, which improve traction and reduce the danger of slips and falls in high-traffic areas.
Epoxy Coating Enhances Commercial Spaces
Now, let's look at how epoxy coating might improve various types of business spaces:
1. Retail Stores: Epoxy-coated flooring in retail businesses give a clean and modern appearance that improves the shopping experience. The reflective surface may highlight products, and the durability ensures that the flooring looks good even when subjected to considerable foot activity.
2. Restaurants and Cafes: Epoxy-coated flooring at restaurants and cafes are easy to clean, making spills and mishaps less of a concern. The customization possibilities also enable for the creation of distinct and pleasant environments.
3. Offices: Epoxy flooring in offices can create a professional and modern appearance. Because of its endurance, it can resist the demands of a busy workplace, including rolling office chairs.
4. Warehouses: Warehouses and industrial spaces benefit from epoxy coatings. They can withstand the weight of big equipment while remaining clean and orderly.
5. Showrooms: Companies with showrooms, such as car dealerships and appliance stores, might profit from epoxy-coated floors that improve product presentation.
6. Healthcare Facilities: Because epoxy coatings are sanitary and chemical resistant, they are ideal for healthcare environments where cleanliness and infection control are critical.
Coating Services Experts
While epoxy coatings can be done as a do-it-yourself effort, epoxy coating companies in the Upstate services for commercial buildings are recommended for various reasons:
1. Expertise: Professionals have the knowledge and skills to guarantee that the epoxy coating is properly placed, maximizing its longevity and performance.
2. Surface Preparation: For a successful coating application, the commercial space's floor must be properly prepared. Professionals can evaluate and repair any existing problems, like as cracks or surface defects.
3. Customization: Professionals can assist you in selecting the best type of epoxy coating and finish for your specific business needs and brand image.
4. Time Efficiency: Coating a commercial space can take some time. Professional installation can save you time and assure a smooth finish.
5. Long-Term Investment: Hiring expert coating services is a long-term solution for improving the appearance of your commercial property. It adds value to your company while also extending the life of your flooring.
Conclusion
Epoxy coating is a game-changing technology that may improve the aesthetic and functionality of business buildings ranging from retail stores to offices and industrial facilities. Its longevity, ease of upkeep, and aesthetic variety make it an appealing choice for organizations trying to leave a great impression on their customers, clients, and staff. Investing in skilled coating services will help you optimize the benefits of epoxy flooring, ensuring that your commercial space not only looks good but also functions well. A beautifully polished floor can boost your business's curb appeal, brand image, and client satisfaction, all of which contribute to its overall success, find more info about IronDrive Garage Floors.