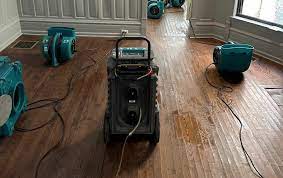 Water, an important component of life, can also be a destructive force when it abruptly enters our houses. Water damage may cause havoc on your house whether it is caused by a busted pipe, a sudden storm, or an appliance problem. In such critical situations, quick action is essential to minimizing damage and protecting your home. We will walk you through the immediate actions to take when dealing with emergency water damage restoration in this article. While these early steps can help, it's vital to remember that professional services are frequently suggested to ensure a comprehensive and effective restoration process.
1. First and Foremost, Ensure Safety:
The safety of you and your family should come first. Assess the issue and take the following steps before undertaking any water damage restoration:
Electrical Hazards: Do not enter the affected area until the power is turned off at the main breaker panel if water has come into contact with electrical outlets, appliances, or wiring. If you are doubtful, it is best to call a professional electrician.
Structural Integrity: Look for indicators of structural damage, such as sagging ceilings or bowing walls, in the affected area. If you suspect structural instability, avoid entering the area until an expert has inspected it.
Slip and Fall Hazards: Be wary of slick surfaces in wet places. To avoid mishaps, go slowly.
2. Cut Off the Water Supply:
If the source of the water damage is still active, such as a burst pipe, a leaking roof, or a malfunctioning appliance, take the following steps right away to halt the water flow:
Turn Off Water Supply: Locate your home's main water shut-off valve and turn it off to prevent additional water from entering the property.
Roof Leaks: If water is entering your home through a leaking roof, place buckets or containers beneath the leak to collect the water. If possible, make interim repairs, but avoid climbing onto the roof during inclement weather.
Unplug & Disconnect: If electrical appliances are in contact with water or are in a flooded area, unplug them and turn them off.
3. Photograph the Damage:
Document the extent of the water damage for insurance purposes before beginning any cleanup or restoration:
Photographs and Movies: Take clear photographs and movies of the impacted regions with your smartphone or camera. Record the water levels, damaged items, and any obvious indicators of damage.
Make a List: Make a thorough note of the damaged objects, including their description, estimated worth, and purchase date. This will be extremely useful for insurance claims.
4. Drain Water and Moisture:
The longer water sits still, the more damage it can do. Begin the water removal process as soon as possible:
Use a Wet/Dry Vacuum: Remove standing water with a wet/dry vacuum if you have one. Check that it is suitable for use in wet situations.
Open Windows and Doors: If the weather permits, open windows and doors to allow for air circulation and drying.
Use Fans and Dehumidifiers: If you have access to fans and dehumidifiers, strategically use them to speed up drying. These devices aid in the reduction of moisture in the air and on surfaces.
5. Get Rid of Wet Items:
Items soaked in water should be removed from the affected area:
Furniture: To minimize further damage, move furniture and belongings out of the wet area and to a dry spot.
Rugs and Carpets: Wet rugs and carpets should be lifted and removed. They may be cleaned and dried independently.
Books and Papers: Separate books, photos, and documents gently to avoid sticking. Put them somewhere dry and well-ventilated.
6. Clean and Prevent Mold Growth:
Mold can thrive in an ideal environment created by water damage. Take the following procedures to keep mold from spreading:
Disinfect Affected Locations: Clean and disinfect locations that have come into touch with water with a disinfectant or antimicrobial solution.
Ventilation: Increase ventilation by opening windows and doors. This reduces humidity and prevents mold formation.
7. Contact Your Insurance Provider:
Contact your insurance company right away to report the water damage and start the claims process:
Documentation Should Be Provided: Send your insurance adjuster photos, videos, and an itemized account of your damaged possessions.
8. Think about Professional Services:
While these early procedures are critical in water damage mitigation, professional services are frequently needed for a thorough restoration process:
Expertise: Water damage repair contractors have the knowledge and equipment needed to assess the extent of the damage, properly remove the water, and fully dry and dehumidify your property.
Secondary Damage Prevention: Professionals can detect and remove hidden moisture, which, if left unchecked, can cause to secondary damage such as mold development and structural difficulties.
Insurance Coordination: Water damage restoration Tulsa professionals can work with your insurance carrier to verify that your policy covers the restoration process.
Finally, while dealing with emergency water damage restoration, quick action is vital. Following these preliminary actions can assist in minimizing damage and protecting your property. However, it's critical to understand that expert services are frequently required to provide a full and effective restoration process that addresses both visible and concealed damage. Water damage can be unexpected and upsetting, but with fast and skilled assistance from https://www.waterdamagerestorationtulsa.net/, your home can be returned to pre-damage state.