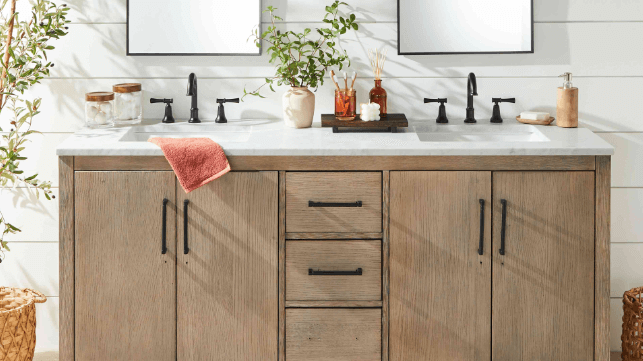 There are many ways homeowners can improve the look and feel of their home. Major renovation and remodeling projects take a lot of time and money. But they are a smart investment, especially bathroom renovations. Having a sleek, stylish, comfortable bathroom can make your home much more attractive to potential buyers if you are planning to sell.
And if not, it will make the space more relaxing and comfortable for you and your family. If you are considering your option for bathroom remodeling in Boise, ID, Renaissance Remodeling has what you are looking for. But even after the pros are done working their magic and you are putting the final touches on your new dream bathroom, there are some small upgrades you can make that will take the new look even further! Consider these ten easy touches you can give your bathroom after that big renovation project and see just how great your bathroom space can look.
New Door or Shower Curtain
Looking for a fast and easy way to upgrade your dated bathroom? Nothing is easier than simply swapping out your shower curtain or changing the shower door. Another option is to change the type of enclosure you have for your tub and/or shower. For example, try a shower curtain for a softer look instead of the soap-scum-riddled shower doo, or throw out the plain curtain for a fancy glass shower door option.
Update the Lighting
Updating the light can quickly give your bathroom an instant upgrade. You have two basic options. You can simply change out the type of bulbs to see if going brighter or a little softer with the lighting works best. Or you can change out the entire fixture to change the style and overall look and feel of the bathroom space. Both options can work, so see which one is best for your bathroom upgrade
Use Wainscoting or Beadboard
Wainscoting is a common decorative paneling that is used on the bottom half of the wall in the bathroom to make it look and feel a little fancier. Beadboard is similar but is more decorative and is made of slats rather than full panel sheets. Both are relatively easy to install and come in a wide range of materials, colors, textures, and styles, so you can find something that works perfectly for your bathroom.
Upgrade the Hardware
Updating your bathroom's current hardware is quick, easy, and affordable. No wonder it is a popular way to give the space a fresh new look. Hardware includes things like towel bars, hooks, vanity fixtures, light switches, and shower/tub fixtures. This is one of the simplest bathroom upgrades anyone can pull off.
Restore Your Old Hardware
If you don't want to switch out your current hardware and fixtures, then consider giving what you do a little TLC. Really cleaning off the dirt, grime, and rust can make your hardware look almost like it is brand new in some cases. This works especially well with decor styles or specific pieces that cannot easily be found anymore and lets you keep your look and still upgrade the bathroom space.
Consider a New Paint Job
A fresh coat of paint can do wonders for any room of the house, but the bathroom especially. For small bathrooms, keep the space feeling airy and open with lighter colors. With a more standard-sized bathroom, you can mix bold and neutral colors for a fun look. Larger bathrooms often lend themselves to the use of dark colors to create a cozy and comfortable atmosphere and ambiance.
Upgrade the Old Sink
For a slightly more impactful upgrade, you can consider replacing your old sink with a new one. This is a bit more involved but is still relatively straightforward, and it can make a big impact on any bathroom in smaller homes where every inch matters! From double sinks to modern fixtures and setups, you can find a new sink that accommodates your daily use needs and makes your bathroom look much nicer, too.
Upgrade Your Toilet
It might feel like a daunting task, but it's not too bad, really, and the professionals you hire for your main bathroom renovation will help you through the process. For small bathrooms, a compact model can be good to give you more space in an otherwise tight fit. You can also go with a more eco-friendly option and get a toilet that uses less water per flush to conserve water every single time you go.
Add a Convenient Storage Space
One of the biggest complaints homeowners have about their bathroom is that there is not enough room to keep everything. Adding in a convenient storage closet or installing a shelf or some cabinets can help keep things neat and organized. Cluttered sinks and counters can be cleared, and everything can have a place, and you can easily get t everything you need when you need it with an organized storage space.
Update the Fabric Features
The final quick upgrade you can do to finalize your bathroom renovation and remodeling project is to upgrade your fabrics. The shower curtain, window treatments, towels, and rugs could all be switched out for something new. Whether it's simply a change in color, a full upgrade with fun patterns, or an entirely new look, it doesn't cost much money, and it can really change how your bathroom looks.
We spend a lot of time in the bathroom. Make sure you are comfortable in your own home and give some serious thought to renovating and upgrading that space. Bathroom renovations are one of the most common projects homeowners consider. They are also one of the best for return on investment and can greatly improve your home's overall value and appeal.
If you need help and are looking for local, reliable providers for bathroom remodeling in Boise, ID, Renaissance Remodeling has what you are looking for. Click here to learn more about their services and see how simple touches and upgrades can go a long way in transforming your bathroom space and making it look and feel even better!